Over recent years we have seen vast environmental and sociological changes, such as the effects of global warming and a complete alteration in working habits with many people now working from home.
With the world wanting to reconnect employees with minimal impact on the environment, sustainability is becoming a priority for everyone in the events industry. A survey conducted by the Imex Group in 2020 reported that 97% of event organisers were already implementing some form of sustainability practice – showing how paramount the issue is.
Guy Bigwood, a global expert on regenerative tourism and events says, that to meet government targets the events industry needs to work to reduce its emissions by approximately 45% by 2030, reaching net zero by 2050.
We're In This Together
Don't slip into old habits because it makes life easy and sustainability seems confusing and scary. Sustainability is new for us all, but working with Eventurous for your team building days can take away the burden by doing the work for you. To help you get started with minimising the environmental impact of your corporate events, read our top tips below.
Active Agencies
Look for an event agency that actively participates in sustainable practices and is working with organisations such as Isla or Greengage. By looking around for a sustainable agency, you can help your company to meet their sustainability targets and reap extra brownie (or should we say greenie) points at your next business meeting. Eventurous is a full service event agency that practices sustainability and has taken real action to reduce carbon emissions.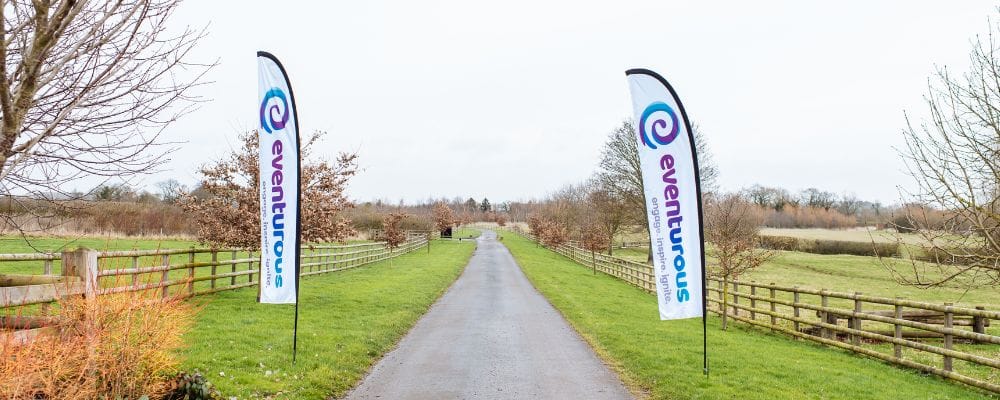 Venues with Vision
When searching for a sustainable venue, it's worth bearing in mind that not all will operate at the same level of sustainable practice, due to factors affecting their ability to make a certain change such as the age of a building. One way to best ensure you are working with a sustainable venue is to look out for Green Meetings or Green Tourism accreditation. These schemes involve venues submitting measurable metrics against multiple pillars from gas and electric to food suppliers. We work with many sustainable venues including Wyboston Lakes, Warwick Conferences and Rothamsted Conference Center.

Venues with solar power are a great option for your corporate event, as you can be sure the event utilises renewable energy, which is a pretty impressive statement to make! Mythe Barn is a great example of this, as it has over 500 solar panels which provide up to 88% of the site's electricity per month.

Put Down Your Pens
Historically you would be frowned upon if you didn't have a pot of pens at the ready at your corporate event but times have changed, and you're more likely to be frowned upon for it now and rightly so. "Today a whopping 91% of plastic isn't recycled." (Condor Limited, 2022)

If you like to give something back to your attendees then look for plastic-free options as giveaways and limit the use of printed materials. The pandemic saw the rebirth of QR codes as people of all abilities and ages were forced to use them. Don't be afraid to ask people to scan for information on the go as opposed to handing it out.
Travel Tips
If you decide to use an event agency you will need to consider their location and what that costs you and the earth in travel. Using a centrally located agency and one with a travel policy such as Eventurous can be beneficial in most cases.

If you have employees located all over the UK, it can be difficult to limit travel. Although face-to-face connection is important, if not achievable you can always offer attendees the option to remotely join your event with the help of virtual event experts like Eventurous.
Study Your Suppliers
Whether you are selecting your own suppliers or your event agency is doing this for you, work with local ones to limit travel and reduce carbon emissions. You or your event agency can also check to see if your chosen suppliers have their own sustainable practices, this can make the impact on the environment minimal at as many touchpoints as possible.
Reduce, Reuse, Recycle
Remember – reduce, reuse and recycle where possible for a greener future. Always ask your suppliers and the venue about their waste management procedures. When it comes to waste management, we don't just mean litter but food also.
Share Your Story
After taking on board our top tips don't forget to shout about your efforts, as it is great marketing for your brand. Aim to inspire attendees as you tell them about your journey and hopefully educate others to do more. Speak with us today or see our sustainability page for more information.