We all know that London is pretty cool, but we'll bet you've never heard of some of these unique venues. Choosing the ideal venue should not only be about size, or location, but also about inspiring your guests, and encouraging them to embrace your event. Whether you're looking for some team building in the city, a corporate kick-off or a conference, we're sure to have something for everyone.
East London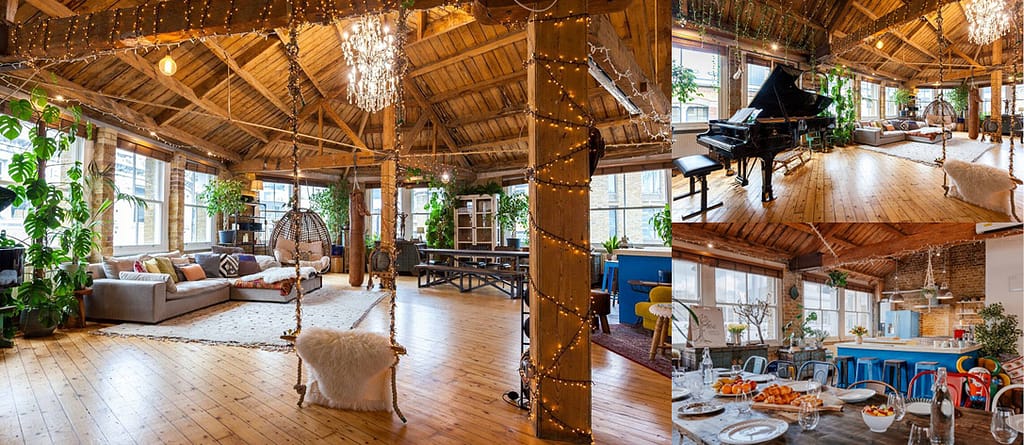 Where: Shoreditch
Great for: Fun conferences, product launches and treehouse fans
Imagine a secret garden loft, only a five-minute walk away from the City of London, with high wooden ceilings, fairy lights, plants and 12 large windows that surround the venue, allowing floods of natural light to come in all day. You've pictured the Shoreditch Treehouse, a quirky and bright venue that's perfect for intimate team meetings, or small conferences.
With a capacity of 80 people, it's a great space for a range of events, beautifully decorated to make you feel like you've been whisked away to an enchanted garden.
The venue has its own kitchen, snug breakout area and even allows dogs! It would make the perfect space for a creative meeting about new products, a team briefing session or small presentation.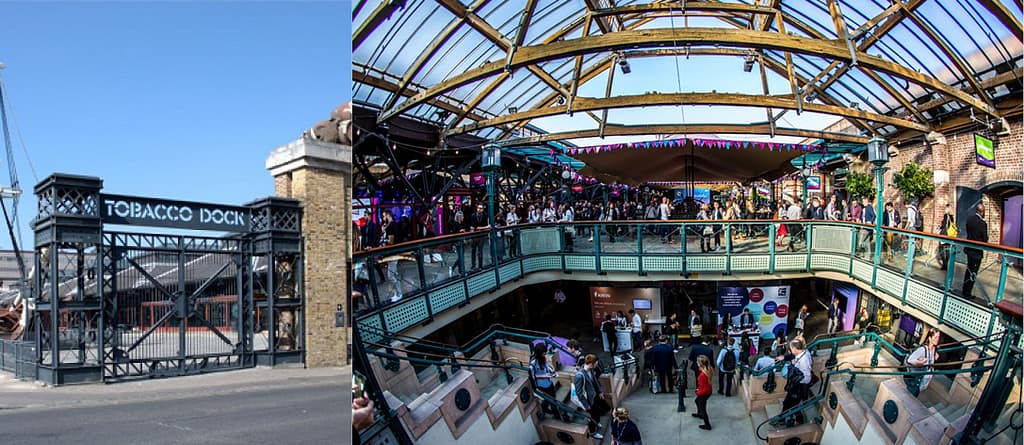 Where: St Katharine's & Wapping
Great for: adaptable and stylish events with modern elements
When it comes to Tobacco Dock, versatility is the watchword. This magnificent venue offers 16,000 sqm of space to play with, over two stunning levels. With 57 spaces ranging in capacities that can be used individually or combined to create the perfect space for your event. With many of the spaces boasting glass frontages, which get tons of natural light into the space, this venue is truly flexible and unique.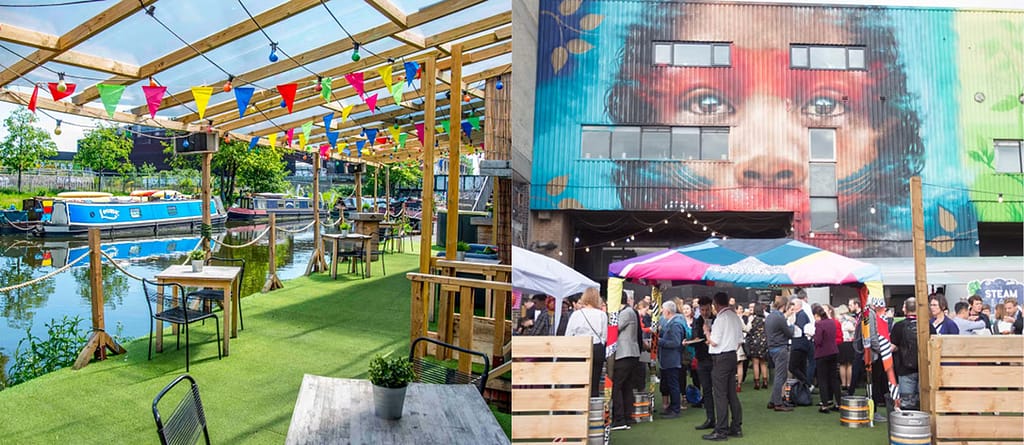 Where: Hackney Wick
Great for: Bright, urban events
Tucked away in the ever-evolving Hackney Wick, Studio 9294 has built its artistic hub with its
own hands and the personal dedication and time spent shows in this vibrant, industrial event venue. Composed of two industrial spaces, with a long outdoor Canalside terrace, the venue overlooks Queen Elizabeth Olympic Park and is adorned with street art and two 70-metre-long murals.
It's a true feast for the eyes and an unusual venue like you will never have seen before! Both industrial spaces are ground-floor blank canvas studios. Studio 92 is a 2800sq ft warehouse with the option of full blackout available, complete with a beautiful bar, office space and green room area. At 3250sq ft, Studio 94 is their bigger room (ideal for conferences), holding a capacity of 150 – 500 people. It's the ideal venue for creative events with an industrial/urban twist and sure to be a big hit with all your guests.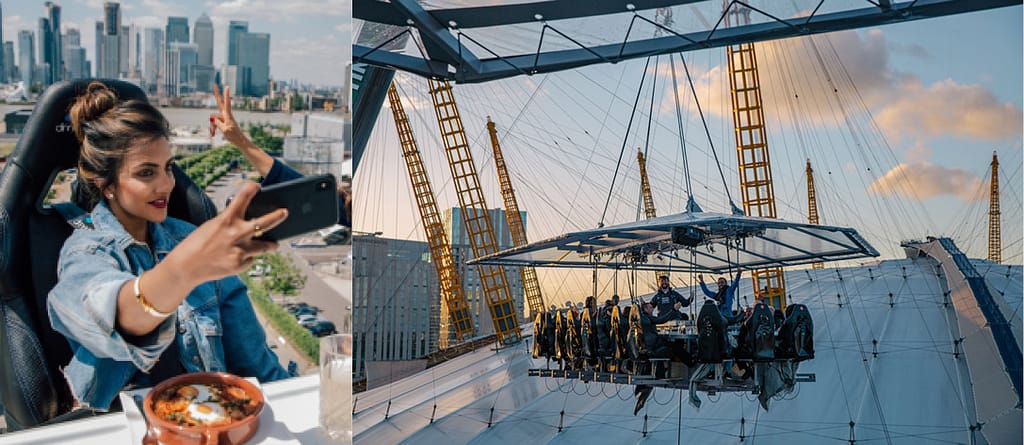 Where: Greenwich
Great for: Seeing things from a new perspective
Think you've seen London from every angle? How about being suspended from 100ft in the air? Whether you're looking to entertain a group of clients or want to treat your team to one of the most unusual venues in the UK, Dinner in the Sky, London, offers a range of fantastic corporate packages that are guaranteed to impress.
With options to reserve a private area in the bar and lounge, hire out a whole 22-seat Sky Table, or even take over the whole venue, host an experience that's fully tailored to your guests. See the capital like never before whilst enjoying fantastic food and cocktails. Discuss business and savour delicious food all sat at your own sky table, and make sure that you take lots of photos!
Central London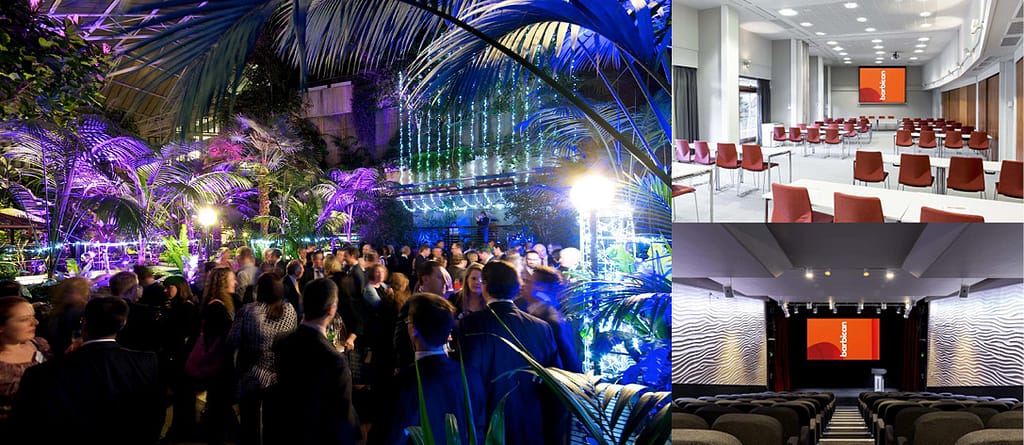 Where: Barbican
Great for: creating an engaging visual space to inspire your guests
Winner of 'Coolest Conference & Exhibition Centre 2017' award at Prestige Event's COOL Awards, The Barbican is an inspiring artistic space. They offer unique, bespoke packages and tours for business clients to connect and experience an engaging art atmosphere.
The Barbican has a range of auditoria, rooms and spaces that can be hired for a wide variety of events, from conferences, AGMs, photoshoots, and product launches to meetings – set in one of the most iconic Brutalist buildings in the world. From the wilds of The Conservatory to the awesome Barbican Theatre, the spaces offered in this diverse building are definitely inspiring.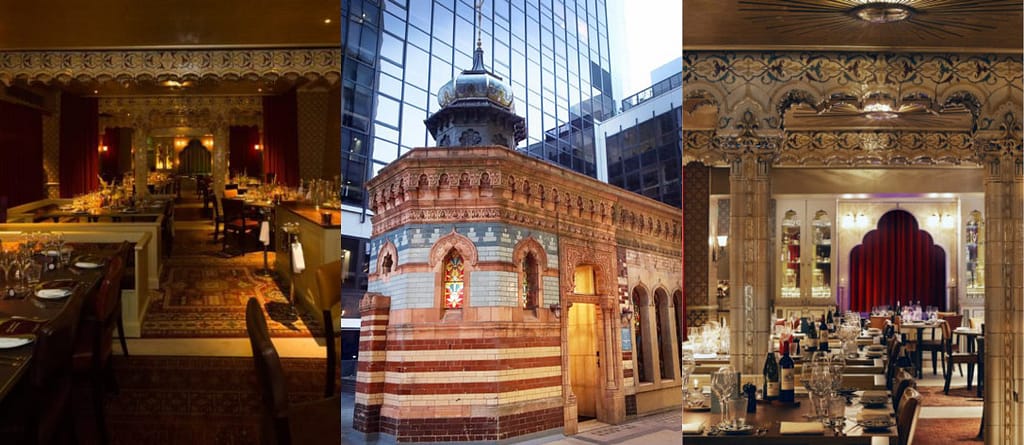 Where: Finsbury
Great for: more intimate gatherings in a characterful setting
When it comes to throwing a memorable business event, Victorian Bath House will bring it to life. This unusual venue is suffused with period detail, from old Turkish motifs and characterful Victoriana, creating a unique ambiance and stylish backdrop to all presentations, dinners, and celebrations. A perfectly positioned City gem offers a unique, inspiring setting for your team.
Where: Waterloo
Great for: A quirky space to inspire guests
If you're looking for quirky venue, The Vaults is a must. Situated in the mysterious underground world of Waterloo Station, The Vaults is a flexible and diverse space featuring nearly 30,000 Square feet of Victorian brickwork and abandoned 70s office space. There are 9 different spaces to choose from, including 'The Vaults Theatre' and 'The Long Wet One' and each space has a capacity from 100 to 600 guests. The Vaults is an ideal place to add an unusual element to your meeting or conference in London.
Also perfect for product launches, fashion shows and themed drinks receptions, there's a whole host of uses for this bold space. Imagine dry ice, huge blossom trees and bright graffitied spaces, it's a blank canvas for you to project your most creative ideas. Take your event into the dark and let the curious atmosphere of the Vaults underground tunnels inspire you.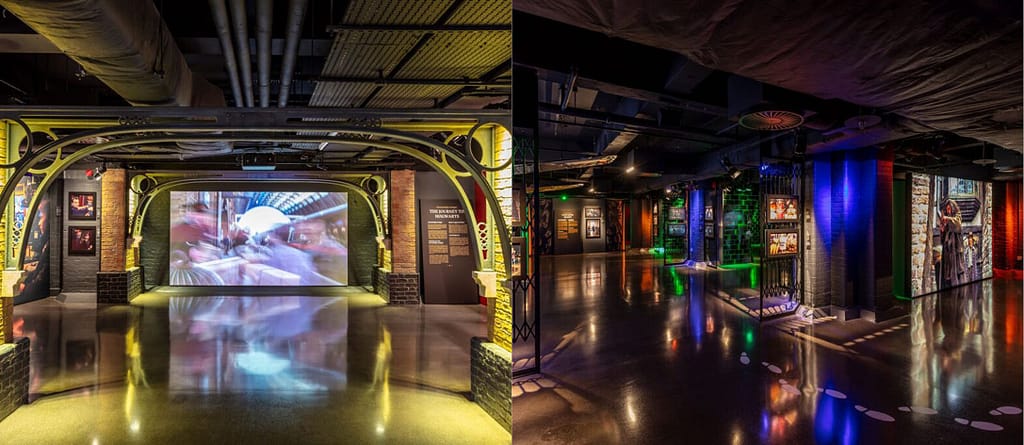 Where: Covent Garden
Great for: Film buffs
Give your corporate event a unique twist with all the trimmings of the big screen at the London Film Museum. The fantastic spaces are available to hire for your event and feature themed exhibitions, such as the current Bond in Motion Exhibition. The Open Gallery is ideal for a reception or celebration, with your guests enjoying the museum to themselves, surrounded by some of the most iconic pieces from movie history.
Bond in Motion is the official exhibition of James Bond vehicles that feature in the renowned film series and is the largest display of its kind ever staged in London. In the main exhibition space, the numerous vehicles on display include the archetypal Bond car, the Aston Martin DB5, Goldfinger's majestic Rolls-Royce Phantom III and the unforgettable Lotus Esprit S1 submersible from The Spy Who Loved Me. The exhibit also includes a variety of aircraft, boats and motorcycles.  The upper mezzanine features never-before-seen concept art and storyboards.
Situated in stylish Covent Garden, it's easy to commute to and surrounded by chic hotels and restaurants. It would make a great themed space for a team building event or movie-themed Corporate Quiz. What better way to inject some Hollywood action into your event!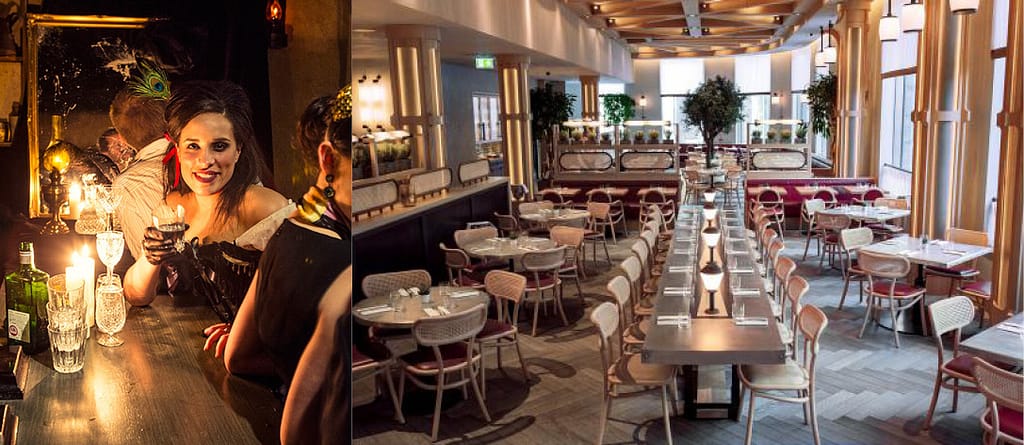 Where: South Bank
Great for: Networking and reward events with a dash of spooky!
The London Dungeon at county hall, London is a fully themed, unique meeting venue with a great combination of real history, horror, and humour. Situated next to the London Eye and only a 5-minute walk from Waterloo station, it's an amazing corporate venue for unusual and exciting events. You can experience a private, immersive, live London Dungeon show, welcome drinks in the Gin Palace and food by award-winning caterers.
This spooky venue is sure to stick in your delegates' minds for years to come and its London location makes it easy for everyone to commute to. Why not combine it with a team building event like an iPad treasure hunt around London? It would be the perfect venue for a cocktail party or evening event.
Where: Covent Garden
Great for: Luxurious incentive travel
With its central location and immaculately restored Edwardian Grade II-listed building, Rosewood London is one of the city's most interesting spots for bespoke events. The luxurious venue has a range of corporate event venues – from the stunning Grand Ballroom to the historic boardrooms– that combine modern amenities with original architectural features. The meeting rooms offer state-of-the-art technology systems, teleconferencing and videoconferencing capabilities and all of the amenities expected of a high-class meeting venue.
Exquisite dining and a range of beautifully sophisticated rooms make Rosewood a fantastic venue for incentive travel or rewards events. Dine in the Mirror Room with its floor-to-ceiling decorative mirrors or relax in their sense spa. What better way to impress and thank your guests than with a conference and stay in this opulent building in the heart of the capital?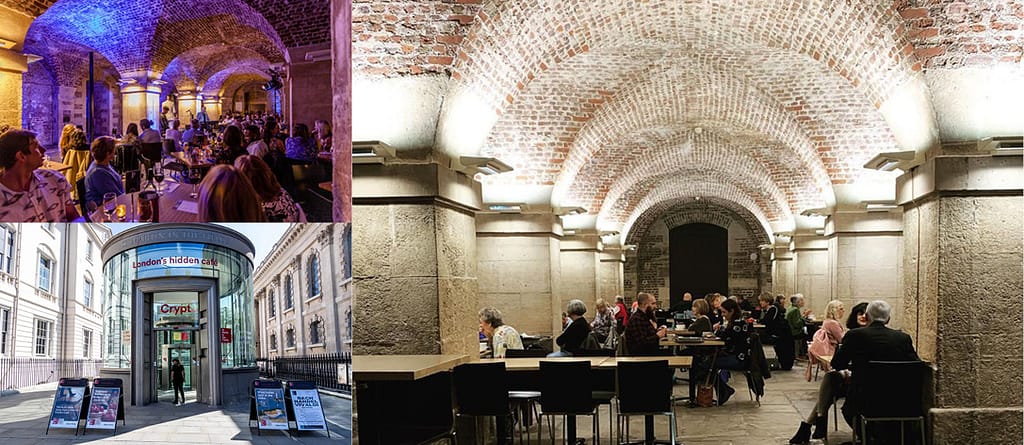 Where: Trafalgar Square
Great for: Evening networking with a difference
The Café in the Crypt is an unusual conference space for its striking architecture, unique location and home-cooked food. Located in the crypt of St Martin's, this welcoming and hidden café has been a favourite of tourists and locals alike for 30 years. Original brick-vaulted ceilings and historic tombstones lining the floor provide the perfect backdrop to atmospheric space. The open layout and Central London location make it the ideal place for gala dinners or networking events and previously it has played host to launches and celebrations for award-winning West End theatre productions.
With a standing capacity of 500 and a seated capacity of 200, there are a plethora of uses for this venue. Team building activities, conferences and drinks receptions all work well here and with a 2am drinks and entertainment license, its excellent for evening events. Your delegates are sure to be impressed with the history and architecture of this stunning venue.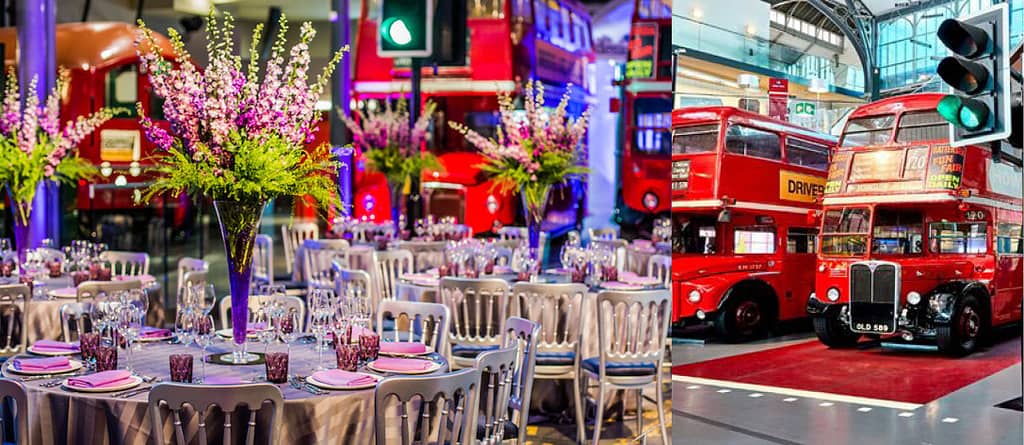 Where: Covent Garden
Great for: Theming your event
Located in the heart of Covent Garden, under the glass roof and cast-iron pillars of the original Victorian Flower Market, the London Transport Museum offers three modern and versatile spaces for a plethora of events. The two-floor gallery space inside the Museum showcases the stunning Grade II listed building and creates an ornate backdrop for the Museum's contemporary and interactive galleries. These unique galleries can be transformed for a host of corporate events including conferences, cocktail receptions, and product launches. The Cubic Theatre and Foyer is a stunning space perfect for seminars, conferences, and film screenings.
The Museum also holds over 320,000 objects at their Depot – including classic vintage trains – which can be used for filming and photography. Dine amongst iconic London busses and explore the history of London transport in breaks between meetings.
Greater London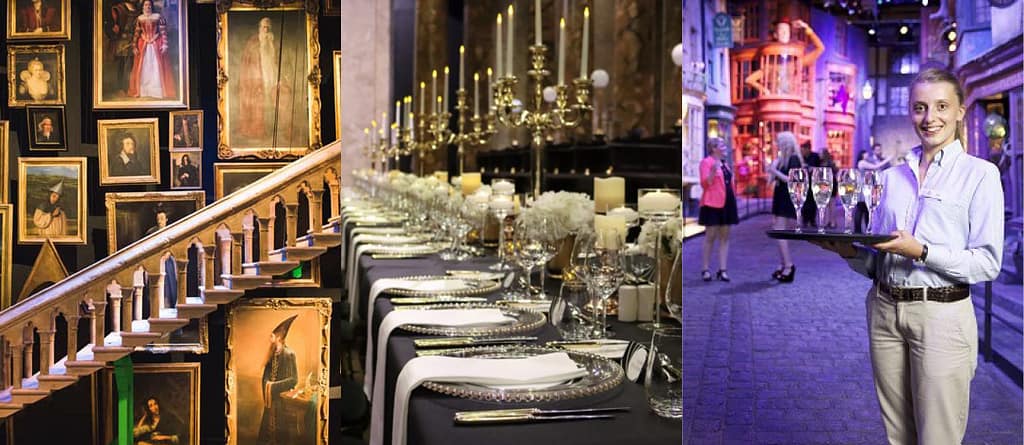 Where: Leavesden
Great for: Adding some magic to your event
What better venue to host a truly magical corporate event than the Warner Bros Harry Potter Studio Tour. This unique venue offers flexible interior and exterior spaces, which make interesting locations for bespoke and team building events. Located within the Studio Tour's two soundstages and Backlot, these inspirational spaces can be tailored to suit individual event requirements.
Accommodating up to 130 guests, the Studio Tour cinema is ideal for private screenings and presentations. The Preview Theatre is also available for up to 47 guests and is excellent for meetings and training events.
For the full Harry Potter atmosphere, the Studio Tour Backlot showcases a variety of the exterior sets from the Harry Potter films, including Mr Weasley's Ford Anglia, 4 Privet Drive, and the Hogwarts bridge. This breathtaking space is ideal for creative event installations, team building events and Backlot summer barbeques. Dine in The Great Hall, see the Hogwarts Express and enjoy a butterbeer after exploring Dumbledore's office or the Gryffindor common room.
North London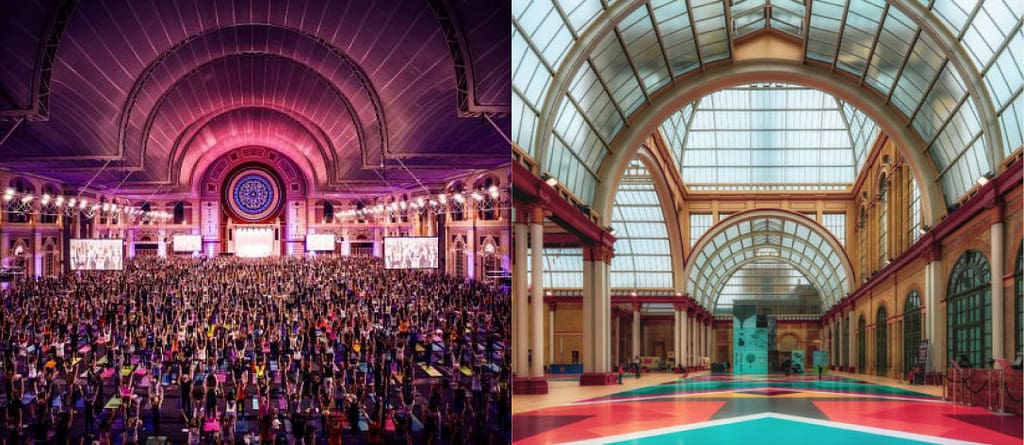 Where: Alexandra Park, Wood Green
Great for: adaptable, stylish, and modern spaces
The perfect balance of historical and contemporary, Alexandra Palace sits in a 220-acre park. Fondly known as 'Ally Pally', the building evokes a feeling of grandeur, unavoidable with its Italian architectural style and lofty windows. With nine flexible pillar-free and interlinking spaces, plus extensive outdoor space to hire, the space can accommodate events from 250 delegates to conferences of 10,250 and everything in-between.
South London
Where: Greenwich
Great for: fascinating exhibits and striking Victorian architecture, set within a World Heritage Site.
Spanned by a spectacular glass roof, the heart of the National Maritime Museum is a meeting of classical 19th-century grandeur and innovative modern architecture. Its capacity for large-scale staging, rigging, and branding makes it ideal for award shows, gala dinners, and product launches. On the ground floor, the Square is an optimal space for receptions and pre-dinner drinks while your guests view one of the museum's many amazing galleries.
On warm evenings, receptions can be hosted under the adjacent stone colonnades with sweeping views across Greenwich Park. The Great Map, situated on the first floor, is a light, open and modern space. The newly installed lighting and audio rig is a great add-on to create the perfect dramatic backdrop to award ceremonies and gala dinners for up to 580 seated guests. The museum also houses a lecture theatre, ideal for daytime meetings and conferences, and a photography gallery which opened in 2018, a great space for drinks receptions.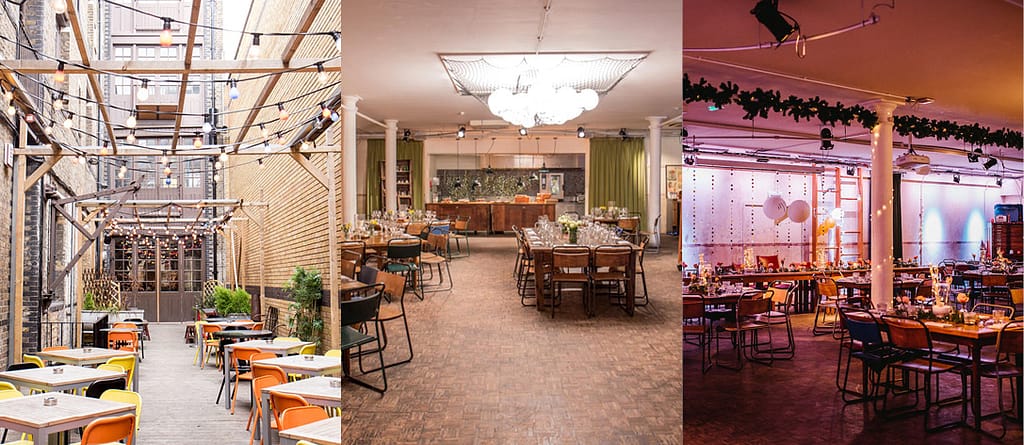 Where: Southwark
Great for: a creative open space for inspiring guests
This stylish converted warehouse can accommodate up to 450 guests. With its buzzy south London location, stylish, characterful décor, and flexible spaces, you can shape the Warehouse to just what you need, with help from their fantastic team.
Where: Greenwich
Great for: gala dinners and award ceremonies
Built in 1869 to carry tea back from China, this monument to the glory days of sail, travelled the world and survived the high seas. The ship boasts a spectacular riverside setting, with a sweeping outlook across the Thames to the City beyond. Select a unique setting for your next event, from the more modern Dry Berth to the outdoor Weather Deck, there's a solution for your next awards ceremony, gala dinner, or client event.