Planning an event can be a daunting task. With so much to think about, suppliers to organise and tasks to delegate, there's a lot more involved with event planning than meets the eye. Whether your event is for 30 or 3,000 delegates, writing a detailed event brief will not only allow you to gather accurate costings and information, but will also save a lot of time liaising with various teams.
We've put together our 9 top tips for creating an effective event brief, covering both public and corporate events, to help make your next production run smoother. You can also download our handy Free Event Brief Template to make creating the perfect event brief even easier!

1. Review Past Events
Before starting a new event brief, it's important to evaluate any past events, or refer back to previous evaluations if you have them. Understanding key successes and things to improve on will influence best practices for your next event.
Gather as much information as possible – feedback, delegate data, supplier info – these things can help shape your event. There may be event suppliers who delivered excellent service who you may want to use again, or something delegates didn't engage with as well as first thought, that can be skipped this time around. Events are constantly evolving and keeping track of key successes and improvements can really help with future planning.

2. Set Goals and Objectives
What are you looking to achieve with your event? Are you wanting to bring employees together to network, build the team and make stronger connections? Is it to raise better awareness of your corporate brand? Having a clear goal in mind can help to drive your event brief. Your goals may evolve as you work through your event planning but having something defined from the outset is vital to creating a cohesive event.
Be sure to include your objectives in your initial communications with suppliers. This can help them to provide the best solutions that achieve your desired outcome and deliver the most engaging experience for your attendees.

3. Choose Your Preferred Event Format
It's good to decide early on if your event format will be an in-person event, hybrid event or virtual event, influenced by your attendees needs and your goals and objectives. Post-pandemic, comfort levels and workplace arrangements vary from person to person, so assess what works best for your intended audience.
If your audience is spread across multiple locations or even internationally, a virtual or remote event might be the best option to get the biggest uptake in attendance, and this will require a whole host of different resources to an in-person event. Similarly, if you want attendees to interact with a particular product or experience, an in-person event would be better suited and may require different suppliers, such as catering teams. Work out the best format early on so you know which direction to take your corporate event planning in.

4. Set a Realistic Budget
As with most things, budgets will define what is achievable for your event. Creating a comprehensive budget can be overwhelming, so ticking off the steps above will help to shape a foundation to start from. If you can, evaluate where you overspent or underspent on previous events. Your budget will likely evolve as you start to confirm different areas, but it's important to set expectations from the beginning to help figure out what is and isn't attainable.
Areas to keep in mind when creating a budget include:
Venue hire
Audio-visual support
Speakers and entertainment
Signage and branding
Catering
Event staff
Furniture and venue dressing
Travel and accommodation
Marketing
Event technology
Logistics
Health & Safety

5. Provide Rough Timings
If your event has set timings to work to already, you can skip this step, just make sure you include your timings in your event brief and in any communications with suppliers. Having an idea of timings will help with provisionally booking suppliers and working out agenda items.
You'll want to think about things like arrival and finish times, breaks for lunch and refreshments, any speaker sets, and estimated run times for each part of your agenda. Not only will this make checking supplier availability much easier, but it'll also help with working out budget and costings.

6. Outline What Suppliers are Needed
Once you've got the basic details down – date, timings, format, and budget – you can start planning out the more detailed areas of your event. What outside suppliers will you need to hire to deliver your vision? Will you need to hire multiples of the same supplier type to cater to your numbers and needs? How long will you need them to be onsite for?
Some key suppliers to consider include:
Entertainment/Music
Catering
Signage and Printing
Venue Dressing
Audio Visual
Photography/Video
Gifts

7. Send Over Venue Details
It's important to let your events team know any logistic details you have about your venue, or if you're still looking for a venue. This will play a part in what suppliers need to provide, when they can access the venue, and how and when they can set up and take down.
If you don't have a venue yet, there are businesses (like ourselves) who offer a free venue finding service. By providing a few details around delegate numbers, your event type, and timings, they can match your requirements to the perfect venue.
Once you have your venue, remember to include the following in your event brief:
Name and address of venue
Capacities
Room measurements (floor plans if you have them)
Access details for suppliers
Any AV or tech available to you

8. Consider Communications
Think about what communications will be needed with your attendees prior to the event. If your event is open to the public, you might need to work on a more in-depth plan of marketing communications, to get the best uptake. If it's a corporate event, or invite only, think about how you will be communicating all the details comprehensively to attendees. Will you send out physical invites? Have everything detailed in an email? Or perhaps you need an event website creating with full details for everyone to log into?
You'll also want to think about collecting information from your attendees. Is there a particular way for invitees to confirm whether they will be attending? Do you need to know dietary requirements for your catering? Summarise all of this into a 'communications' section in your event plan.
9. Provide Specific Contact Details
One of the most important details to include in your event brief, is a list of key contact details for people involved in organising your event. This will include the main event organiser, your event management company, and any event assistants who will have visibility of the project. Make sure to include at least one contact number and an email address they can be contacted on.
This means that suppliers can always contact someone when needed and helps the project to run smoothly. It also allows for assigning different team members to specific parts of your event. For example, you may have an events assistant who will purely look after the suppliers and logistics for your event and another who will take care of any catering. This means questions can be directed to the correct person, with the knowledge to move your planning forwards.
FREE Event Brief Template Download
Download our free event brief template, with helpful prompts to guide you through the event planning process. Our simple-to-use template is already formatted, so all you need to do is fill in your details, save as a PDF and send to your contacts and suppliers.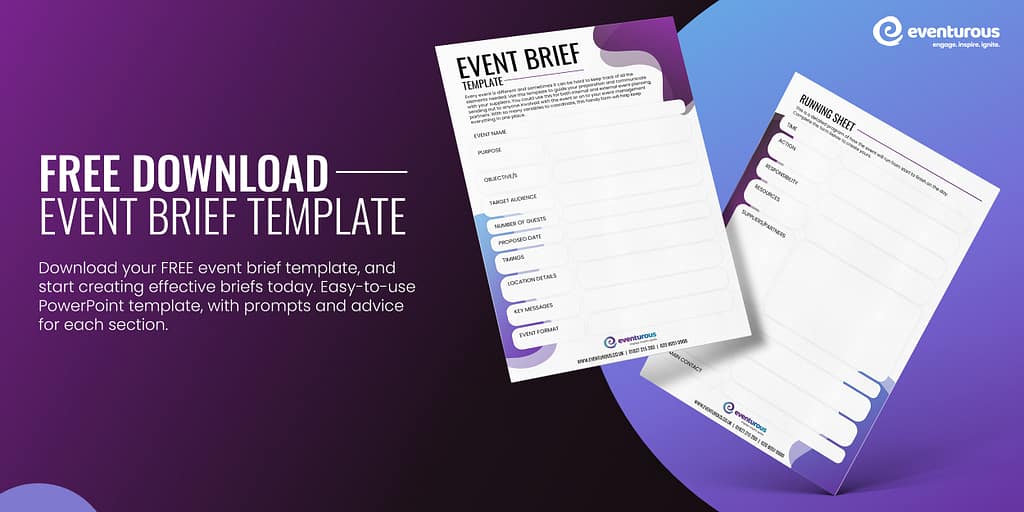 Need help writing an effective event brief?
If you're at the beginning of your event planning, it can seem quite an overwhelming task, but breaking your plan up into smaller chunks will allow you to tackle each stage and form a comprehensive brief to move your event forwards. If you need any help or advice when planning your event, get in touch with our friendly team, who can guide you through the process.