Winter. Unpredictable weather, cold and showery days with colleagues suffering seasonal depression and a lack of motivation. Some of us dread the idea of organising a team building away day this time of year, as the majority of activities elicit awkwardness rather than interest. It can be even more difficult when the weather is unpredictable, leaving you stuck searching for an indoor activity. However, contrary to popular belief, winter can be a great time to engage your teams and ignite performance and communication.
We know it can be tough to find indoor team building activities that your employees will love to take part in, which is why we've gone on the hunt for the best events that'll ensure everyone feels part of the team!
1) Escape Rooms
Budget: Low
Group size: Unlimited
Duration: 1 – 1.5 Hours
No list of the best indoor team building activities would be complete without an escape room. These refreshingly challenging games are specifically designed to test your problem-solving skills in a truly fun and unique way. So how does it work? Teams are placed in a series of locked rooms and must solve a sequence of puzzles and of tasks before time runs out. Those participating in an escape room will have to rely on hints and riddles at hand if they are to be successful.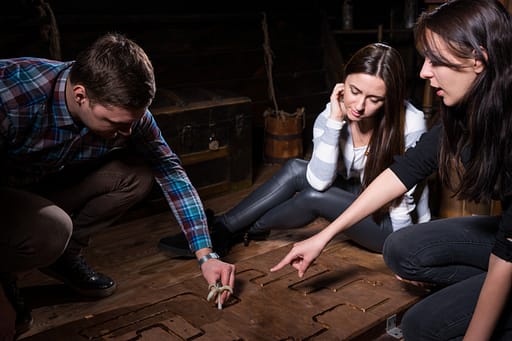 Originally created in Japan in 2004, the escape room has seen a recent spike in popularity across Europe, with over 1,500 listed in the UK alone. This comes as no surprise as just about anyone can take part in an escape room, making it the perfect option if you're looking for an interactive event that'll strengthen team cohesion and one that all your employees can get involved with.
Has this sparked your interest? If the answer is yes, then check out our Escape Room team building option, where we bring the thrill and intrigue directly to you with our table-top escape room event.
2) Crystal Clear Indoor Challenge
Budget: Medium
Group size: Unlimited
Duration: 2 – 3 Hours
Inspired by the Crystal Maze TV show, our indoor Crystal Clear Challenge will test your leadership and communication qualities as you take part in a series of fun and exciting challenges.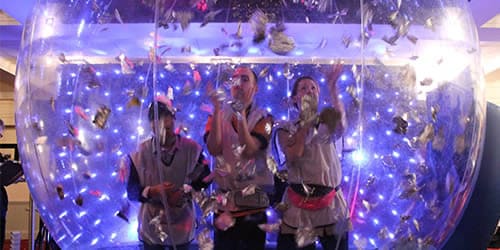 The majority of us are familiar with the classic 90's game. This is your chance to experience what it's like to take part in the classic hit TV game show. Participants take part in cerebral, physical and mystery challenges winning crystals for maximum time in the dome. The more crystals you get, the more time in the dome! If you're looking to develop good communication between colleagues whilst having fun, then the Indoor Crystal Clear Challenge might just be the activity for you.
If you're interested in booking an Indoor Crystal Clear Challenge with us then check out our Crystal Maze team building page where we bring this firm favourite event to you.
3) Scaling The Heights
Budget: Low
Group size: Unlimited
Duration: 1 -1.5 Hours
Not all team building activities are physical; we have developed a truly unique cerebral experience like no other with our Scaling The Heights team building challenge. This is a top indoor team building activity if you're struggling to find an inclusive event that'll get everyone involved. The objective is for teams to solve a series of complex and inventive conundrums to earn points before time runs out.
The key to winning this challenge is robust and effective teamwork. This is an inclusive event suitable for any group size in any venue of your choice.
For more details on our the Scaling The Heights team activity provided by Eventurous, visit our Scaling The Heights page for more information or speak to one of our events team on 01827 215200.
4) Indoor Soap Box Derby
Budget: Medium
Group size: Unlimited
Duration: 2 -2.5 Hours
Design, construct and race your very own soapbox this winter with our exhilarating Indoor Soap Box Derby. How does it work? You and your team must work from a set of construction plans and materials to build the most exciting, human-powered vehicle before testing your racing prowess on the circuit.
What makes this one of the best indoor games? Our Soapbox Derby is a fun and highly competitive team building event that encourage creativity, innovation and teamwork. Teams will also be tested on various skills such as communication, problem-solving and time management, making this one of the most popular events for our corporate clients.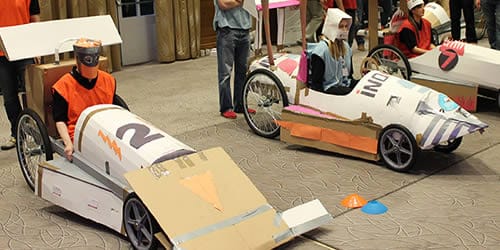 Are you interested? Get in touch with one of our professional events team on 01826 215200 or visit our Indoor Soap Box Derby page to book your next indoor team building activity.
5) The Bigger Picture
Budget: Low
Group size: Unlimited
Duration: 2 -2.5 Hours
Unleash your inner artist and create a masterpiece this winter season with our Bigger Picture team building activity. Assisted by our events staff, each team must produce a predefined painting of a business message or logo before time runs out. To ensure the final painting is a success, teams must utilise their communication skills to successfully recreate a 6ft x 4ft masterpiece from memory.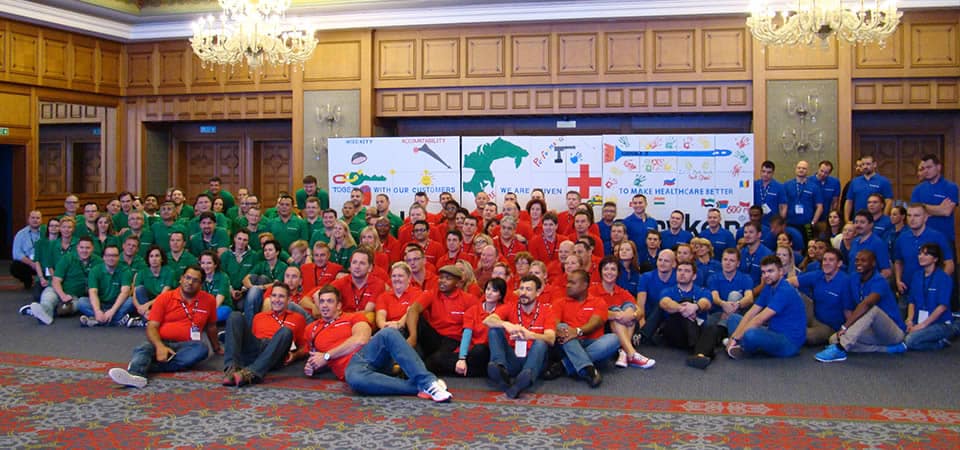 To conclude the event, all the paintings are fitted together to reveal the final artwork. If you're looking to improve communication and collaborative skills then The Bigger Picture team activity is the event for you!