With a rise in remote working and more flexible approach to working hours, many businesses will be looking for ways to reconnect staff and maintain strong relationships between employees.
With this in mind, we've put together a list of our most popular outdoor team building options to get the team back together. From country pursuits in rural locations to corporate festivals in London, we look at a range of options to inspire your next live event.

Our favourite outdoor team building activity for urban areas, the iPad treasure hunt is a fun, GPS-based game that sends your team off on a journey of discovery, with lots of hilarious tasks thrown in along the way. With questions customised to suit the location, delegates will race across all terrains, learning new things along the way. iPad Treasure hunts are the ideal activity to explore a new location or to be a tourist in your own city, and routes can be completely unique. Whether a London treasure hunt around Covent Garden or looking for clues in Birmingham's Jewellery Quarter, its sure to be a thrilling experience your colleagues will love!
Our favourite location: London
Best suited for groups of: 10 – 1000, iPad treasure hunts are super flexible!
Top Tip: You can personalise your treasure hunt with company themed questions, product information or key locations for a tailored experience.
Country Pursuits gives your team a chance to try their hand at archery, rifle shooting, falconry and more! Bring a taste of the countryside to your event with axe throwing or clay pigeon shooting; or visit our stunning rural venue at Mythe Farm for quad biking and duck herding. Designed to provide your team with a unique and memorable experience, Country pursuits gets everyone away from desks and computers and out into the open air.
Our favourite location: Our very own Mythe Barn, in the heart of the Midlands countryside
Best suited for groups of: 20 – 200 -depending on the number of activities for participants to rotate around.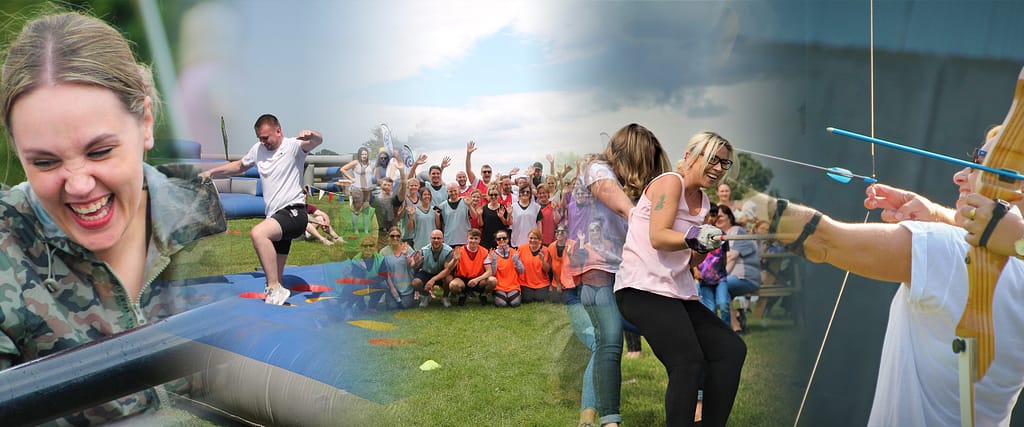 Get into the spirit of the biggest sporting event, with an Olympics themed activity day. After being cooped up in our houses for months, getting out and active in the fresh air is an excellent way to remotivate people and promote positive mental and physical health. Have some fun with giant table football or test your aim with rifle shooting. There's plenty to keep everyone entertained for the day and building up some healthy competition. Which of your colleagues has what it takes to reach the podium?
Our favourite locations: Sports grounds of course!
Best suited for groups of: 40 – 200
Top Tip: To the podium! Why not have gold, silver and bronze trophies created as prizes for the top scoring athletes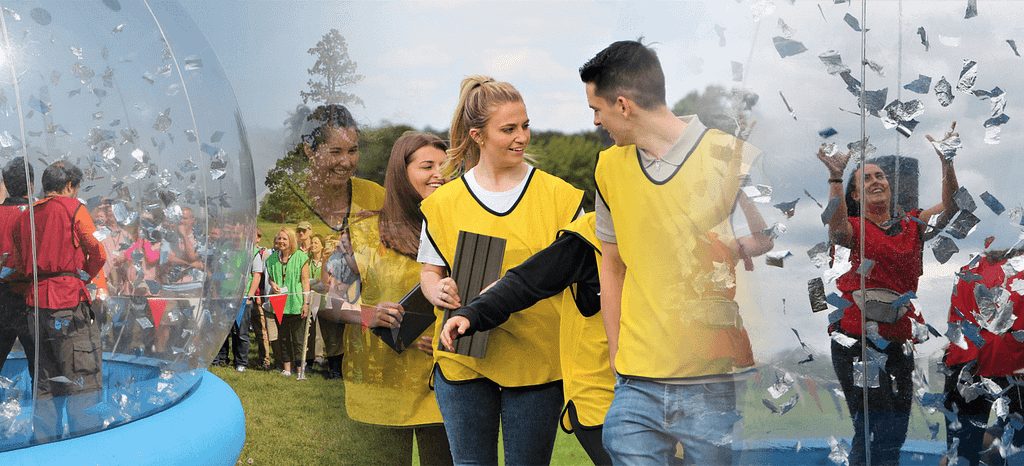 Stir up some nostalgia and get competitive with an exciting team building activity inspired by the iconic 90s TV show, The Crystal Maze. A game that plays to a variety of strengths, your team will be pitted against a selection of physical and cerebral puzzles as they battle for the chance to take on our inflatable Crystal Dome. Our best-selling outdoor team building activity, we've delivered our Crystal Maze event across the UK, from London to Manchester and beyond. Our free venue finding service can help you find the perfect venue so your team can get outside and have some fun, whilst developing key communication and problem solving skills.
Our favourite locations: Historical venues with beautifully kept grounds – flat ground is great for the inflatable dome and historical architecture provides a stunning backdrop.
Best suited for groups of: 30+ for maximum fun
Top Tip: Relive the 90's! Our Crystal Maze activity can be delivered indoors as well as outdoors, great when you can't predict the wonderful British weather!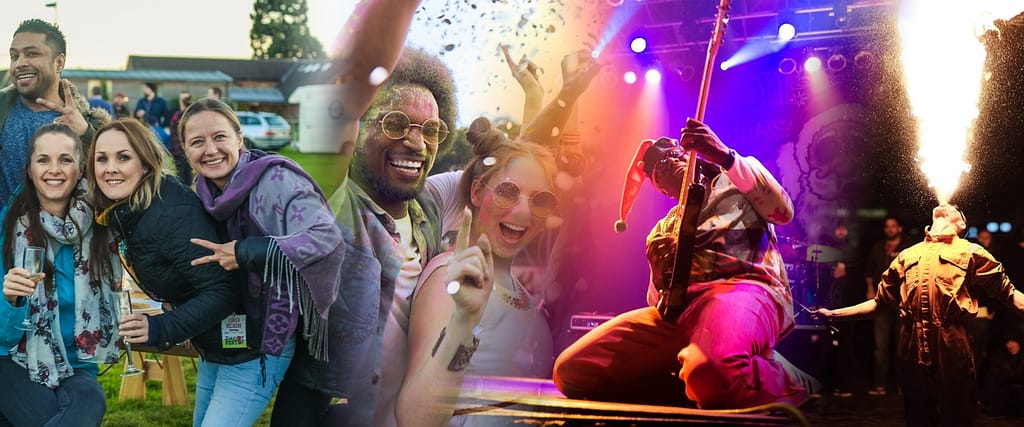 Challenge the way you traditionally host get-togethers with your employees and deliver a team building experience that creates excitement and enthusiasm. A refreshing way to engage the most valuable asset you have, your employees, a corporate festival demonstrates the sort of out-of-the-box thinking you want to promote as a key skill. Whether you want to bring your guests out into the rural countryside, by hosting your festival in a tipi onsite at Mythe Farm, or prefer to stay close to the city, with a London venue such as Mudchute Park and Farm, there are loads of options to create a buzz around your event. The ideal team building experience for large group sizes, corporate festivals can include live music, fairground rides, circus performers and more! It's the ultimate post-lockdown party to get everyone together and reconnecting.
Our favourite locations: Rural locations with plenty of space for dancing! Corporate Festivals have specific venue requirements, so take advantage of our free venue finding service to find the ideal location.
Best suited for groups of: 100+ – Corporate festivals are a great event for large group sizes
Top Tip: Forget Glastonbury(!), go big with the festival theme with company wrist bands, festival ticket event invites and bright, lanyard name badges.
Get in touch or call 01827 215 200.