What better way to ignite enthusiasm and commitment in the workplace than with a celebratory company family fun day? Whether you're looking to have one as part of an annual meeting, an anniversary or as a special achievement, your company deserves to celebrate in style – with the people (and families) that have made it all possible.
Organising a successful corporate family fun day is no easy feat, but it can be done! As professional event planner, we've provided some top tips to help you deliver a family fun day event that everyone can enjoy:
1. CREATE THE PLAN
This does of course take some precision planning, especially with added element of children to entertain. Once you have your budget, you can start selecting the venue, size, activities, catering and schedule for the day. If you don't have a dedicated member of staff to take on these extra duties, you can always use our professional event management service which will allow you to benefit from an in-depth consultation, ongoing support and full delivery of an event for 1000 guests and more.
2. CHOOSE YOUR IDEAL VENUE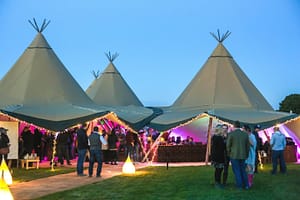 When hosting a family fun day as a thank you for staff and their families, its best to choose a venue that's convenient for everyone and available on a weekend so that significant others and children can attend. With our free venue finding service, we can provide you with a great selection of sites from across the UK including hotels, stately homes or more affordable sports clubs; all with plenty of grounds and character. We also host your event at our own stunning venue – Mythe Farm with 150 acres of beautiful fields and indoor facilities, just a stone's throw from Birmingham (Check out our dedicated Birmingham team building page).
3. SELECT ENJOYABLE ENTERTAINMENT OPTIONS
To truly ignite enthusiasm and show staff how much you care, you can offer a selection of high-quality interactive entertainment. The following are firm favourites for our corporate family days:
Funfair games, stalls and rides
Performers and magicians
Falconry
Face painters
Target sports like archery and axe-throwing
Tasty selection of street food including hog roasts, BBQs and bars
A professional event host
Sound system and superb music
Add all this in the mix and you have yourself a winning combination that every man, woman and child will truly enjoy. Check out more of our options for fun outdoor team building activities, ideal for corporate days in the sun!
4. SELECT A STRONG FOCAL POINT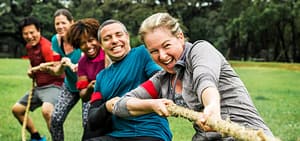 Bring everyone together with a focal point that creates some family-friendly competition. Games such as It's a Knockout or Retro School Sports Day Games are great options and will get each guest involved, whether they are participating or just cheering on their team. A main scheduled activity also creates a great opportunity to deliver those thank you speeches or to raise funds for charity.
5. SAFETY FIRST
With physical activities and the whole family taking part, safety is paramount. It is best to use the services of a professional event management service who can coordinate all aspects of health and safety, including:
Checking all equipment
Conducting risk assessments
Providing appropriate indemnity insurance
Trained on-site first aiders.
6. KEEP THE FUN GOING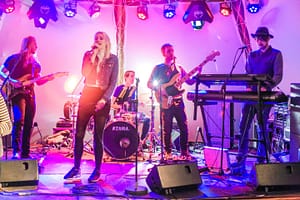 Make the most of those light summer evenings by continuing the evening entertainment with a second food service and more fun interactive experiences tailored to your event. Why not include a disco or a much-loved Bandeoke before sending everyone off home in the early evening feeling full, happy, rewarded and ignited with renewed commitment for the future success of the business.
For more details on the corporate family fun days provided by Eventurous, visit our corporate family fun day page for more information or speak to one of our skilled events team on 01827 215200.