When looking for an interesting conference or event venue or somewhere to host your team building event, it's often good to think outside the box and choose a location that will engage and inspire your guests! We've checked out 26 of the most unique and unusual venues to help you on your way..
UNUSUAL VENUES IN LONDON
Shoreditch Treehouse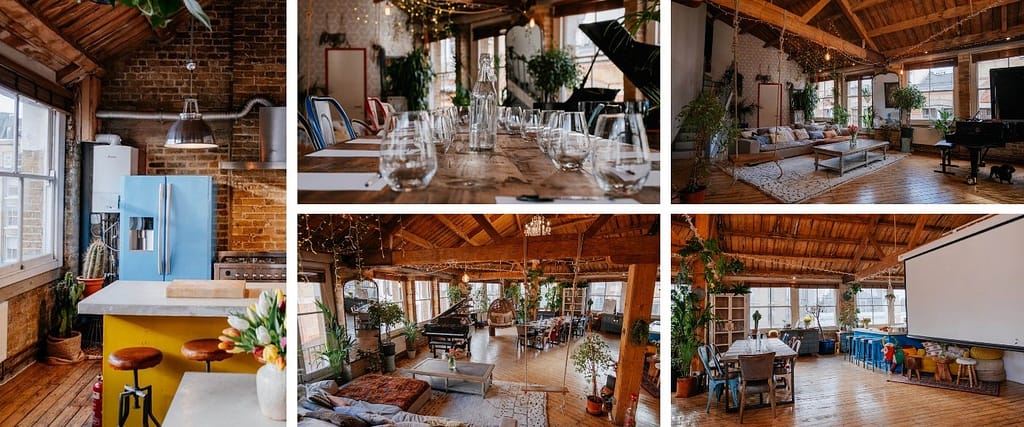 Where: Shoreditch, East London
Great for: Treehouse fans
What's Unusual? It's a treehouse – in East London
Imagine a secret garden loft, only a five-minute walk away from the City of London, with high wooden ceilings, fairy lights, plants and 12 large windows that surround the venue, allowing floods of natural light to come in all day. You've pictured the Shoreditch Treehouse, a quirky and bright venue that's perfect for intimate team meetings, or small conferences. With a capacity of 80 people, it's a great space for numerous events, beautifully decorated to make you feel like you've been whisked away to an enchanted garden.
The venue has its own kitchen, and snug breakout area and even allows dogs! It would make the perfect space for a creative meeting about new products, a team briefing session or a small presentation. It's the ideal place to plan out new ideas and gather everyone's thoughts.
https://www.shoreditchtreehouse.co.uk
Café in the Crypt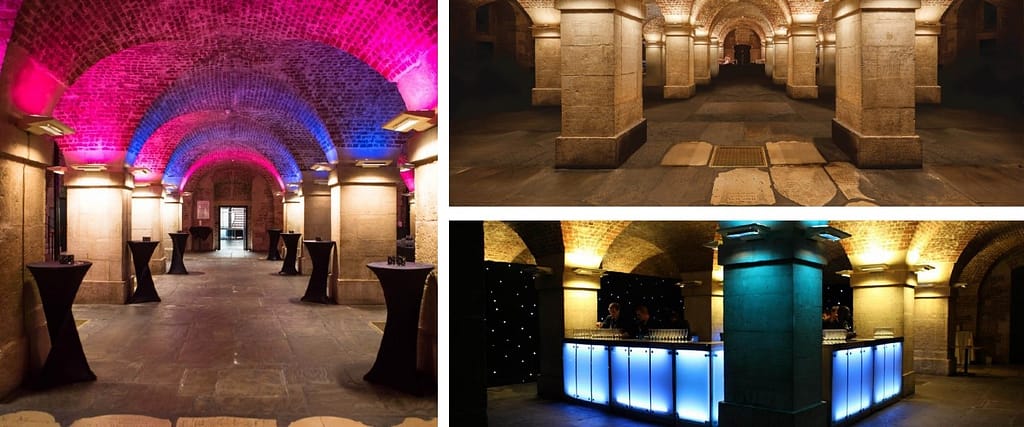 Where: Trafalgar Square, Central London
Great for: Hanging with the underworld
What's Unusual? Socialising next to tombstones
The Café in the Crypt is an unusual conference space for its striking architecture, unique location and home-cooked food. Located in the crypt of St Martin's, this welcoming and hidden café has been a favourite of tourists and locals alike for 30 years. Original brick-vaulted ceilings and historic tombstones lining the floor provide the perfect backdrop for an atmospheric space. The open layout and Central London location make it the ideal place for gala dinners or networking events and previously it has played host to launches and celebrations for award-winning West End theatre productions.
With a standing capacity of 500 and a seated capacity of 200, there are a plethora of uses for this venue. Team building activities, conferences and drinks receptions all work well here and with a 2am drinks and entertainment license, it's excellent for evening events. Your delegates are sure to be impressed with the history and architecture of this stunning venue.
https:// venues.smitf.org/hire-a-space/the-crypt/
Dinner in the Sky, London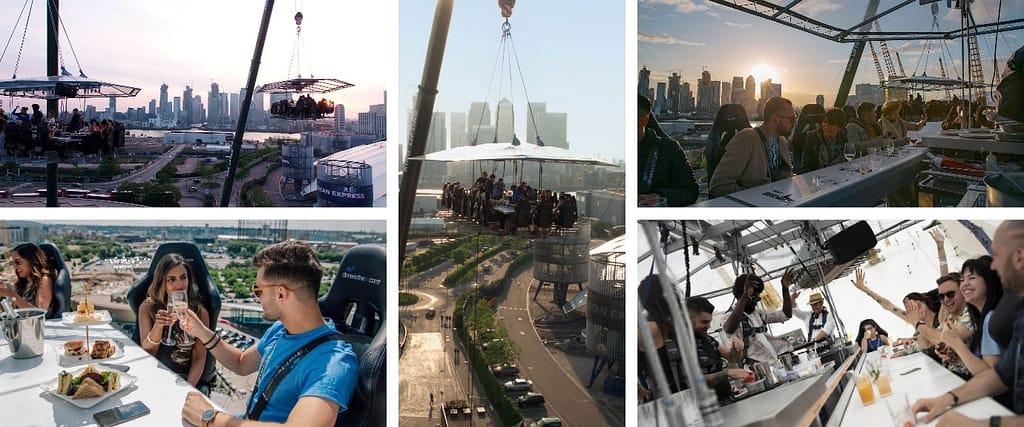 Where: Greenwich, East London
Great for: Those who don't suffer from vertigo
What's Unusual? Holding your corporate event whilst being suspended 100ft in the air
Think you've seen London from every angle? How about suspended from 100ft in the air? Whether you're looking to entertain a group of clients or want to treat your team to surely one of the most unusual venues in the UK, Dinner in the Sky, London, offers a range of fantastic corporate packages that are guaranteed to impress. With options to reserve a private area in the bar and lounge, hire out a whole 22-seat Sky Table, or even take over the whole event, it's an experience that's fully tailored to you and your guests that they'll never forget. See the capital like never before whilst enjoying fantastic food and cocktails. The pictures are sure to be amazing! Discuss business and savour delicious food all sat at your own sky table.
The Vaults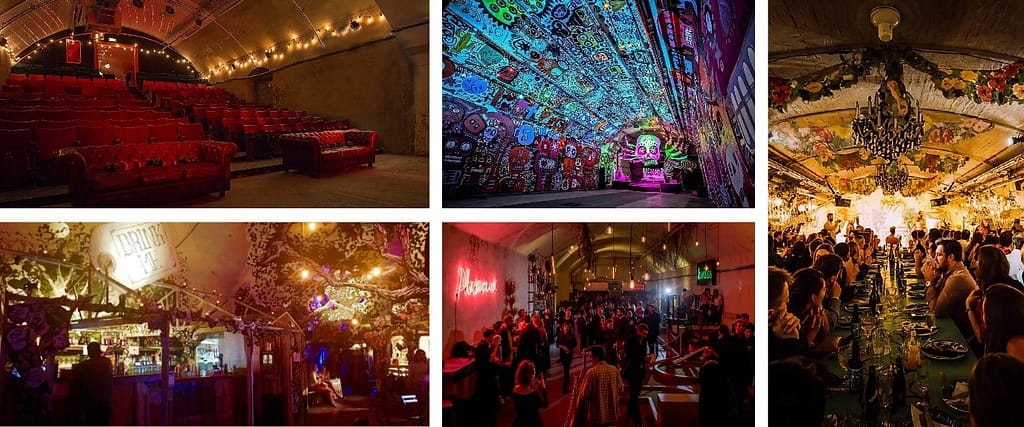 Where: Waterloo, London
Great for: Getting quirky underneath Waterloo Station
What's Unusual? A mysterious underworld of disused Victorian railway arches
If you're looking for quirky, The Vaults is a must. Situated in the mysterious underground world of Waterloo Station, The Vaults is a flexible and diverse space featuring nearly 30,000 Square feet of Victorian brickwork and abandoned 70s office space. There are 9 different spaces to choose from, including 'The Vaults Theatre' and 'The Long Wet One' and each space has a capacity from 100 to 600 guests. The Vaults is an ideal place to add an unusual element to your meeting or conference in London. Also perfect for product launches, fashion shows and themed drinks receptions, there's a whole host of uses for this bold space. Imagine dry ice, huge blossom trees, and bright graffitied spaces, it's a blank canvas for you to project your most creative ideas. Take your event into the dark and let the curious atmosphere of the Vaults underground tunnels inspire you.
London Film Museum
Where: Covent Garden, London
Great for: Film buffs
What's Unusual? A corporate event with 007's DB5
Give your corporate event a unique twist with all the trimmings of the big screen at the London Film Museum. The fantastic spaces are available to hire for your event and feature themed exhibitions, such as the current Bond in Motion Exhibition. The Open Gallery is ideal for a reception or celebration, with your guests enjoying the museum to themselves, surrounded by some of the most iconic pieces from movie history. Bond in Motion is the official exhibition of James Bond vehicles that feature in the renowned film series and is the largest display of its kind ever staged in London. In the main exhibition space, the numerous vehicles on display include the archetypal Bond car, the Aston Martin DB5, Goldfinger's majestic Rolls-Royce Phantom III and the unforgettable Lotus Esprit S1 submersible from The Spy Who Loved Me. The exhibit also includes a variety of aircraft, boats and motorcycles. The upper mezzanine features never-before-seen concept art and storyboards.
Situated in stylish Covent Garden, it's easy to commute to and surrounded by chic hotels and restaurants. It would make a great themed space for a Spyfall team building event or movie-themed Corporate Quiz. What better way to inject some Hollywood action into your event?
The London Dungeons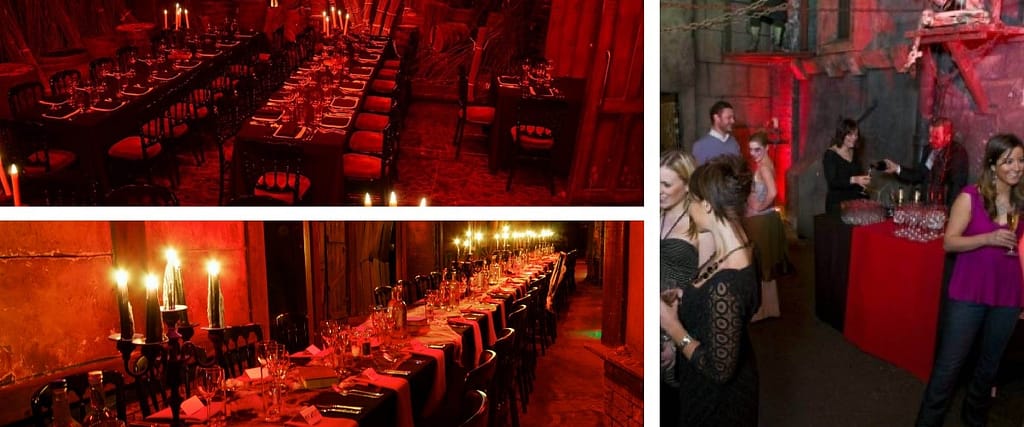 Where: South Bank, London
Great for: Unsettling your nerves
What's Unusual? Real history, real dungeons, real creepy
The London Dungeon at county hall, London is a fully themed, unique meeting venue with a great combination of real history, horror and humour. Situated next to the London Eye and only a 5-minute walk from Waterloo station, it's an amazing corporate venue for unusual and exciting events. You can experience a private, immersive, live London Dungeon show, welcome drinks in the Gin Palace and food by award-winning caterers.
This spooky venue is sure to stick in your delegates' minds for years to come and its London location makes it easy for everyone to commute to. Why not combine it with a team building event like an iPad treasure hunt around London? It would be the perfect venue for a cocktail party or evening event.
https://www.thedungeons.com/london/en/plan-your-visit/corporate-events-private-hire/
London Transport Museum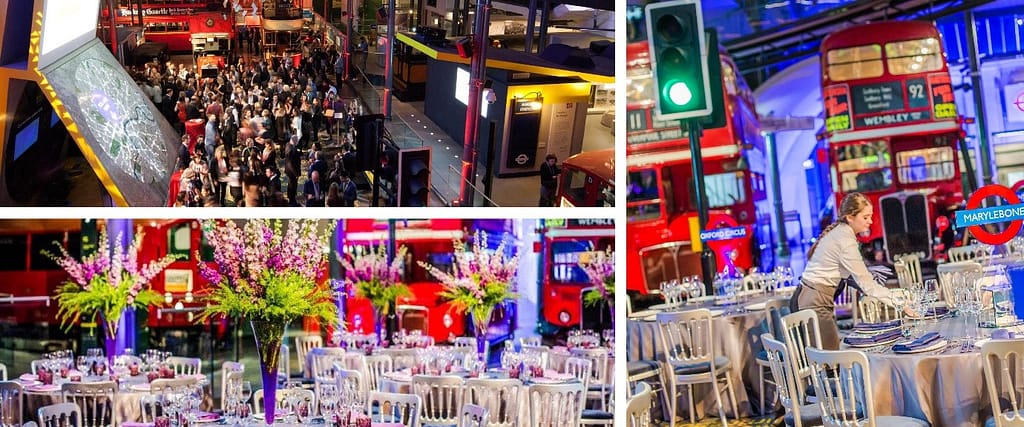 Where: Covent Garden, London
Great for: Motorheads
What's Unusual? Dining amongst double-decker buses and vintage trains
Located in the heart of Covent Garden, under the glass roof and cast-iron pillars of the original Victorian Flower Market, the London Transport Museum offers three modern and versatile spaces for a plethora of events. The two-floor gallery space inside the Museum showcases the stunning Grade II listed building and creates an ornate backdrop for the Museum's contemporary and interactive galleries. These unique galleries can be transformed for a host of corporate events including conferences, cocktail receptions and product launches. The Cubic Theatre and Foyer is a stunning space perfect for seminars, conferences and film screenings. The Museum also holds over 320,000 objects at its Depot – including classic vintage trains – which can be used for filming and photography. Dine amongst iconic London buses and explore the history of London transport in breaks between meetings.
https://www.ltmuseum.co.uk/venuehire
Rosewood London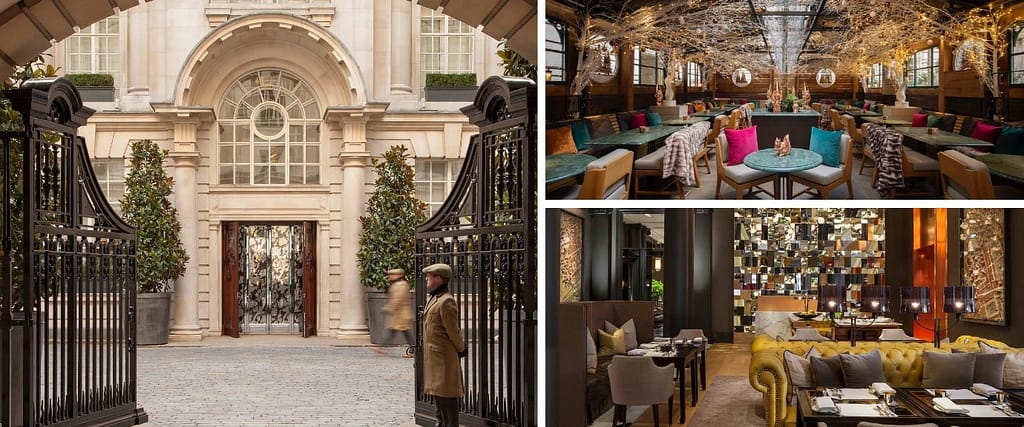 Where: Covent Garden, London
Great for: Those seeking a touch of class
What's Unusual? Going back in time and experiencing true opulence
With its central location and immaculately restored Edwardian Grade II-listed building, Rosewood London is one of the city's most interesting spots for bespoke events. The luxurious venue has a range of corporate event venues – from the stunning Grand Ballroom to the historic boardrooms– that combine modern amenities with original architectural features. The meeting rooms offer state-of-the-art technology systems, teleconferencing and videoconferencing capabilities and all of the amenities expected of a high-class meeting venue.
Exquisite dining and a range of beautifully sophisticated rooms make Rosewood a fantastic venue for incentive travel or rewards events. Dine in the Mirror Room with its floor-to-ceiling decorative mirrors or relax in their sense spa. What better way to impress and thank your guests than with a conference and stay in this opulent building in the heart of the capital?
https://www.rosewoodhotels.com/en/london
Glaziers Hall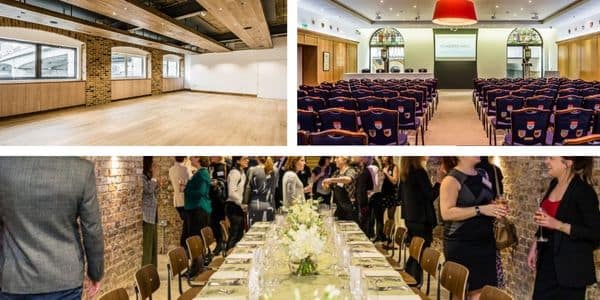 Where: London Bridge
Great for: Impressing Guests with aa Historical Fact or Two
What's Unusual? Rooms underneath London Bridge Arches and views onto the River Thames.
Located in the heart of London, this unique venue is packed with history as it sits underneath one of the capital cities most renowned landmarks – the London Bridge. With over 7 event spaces that hold anywhere from 12 to 300 people, from light and airy meeting rooms that overlook the inspiring waters of the River Thames to Grand Banqueting Halls there is something for all types of corporate event.
Being centrally based Glaziers Hall use London's leading caterers meaning you can blow attendees away with more than just the venue!
This unusual venue promises to leave guests in awe of it's beauty and intrigued by its story.
https://www.glaziershall.co.uk/
Warner Bros Studio Tour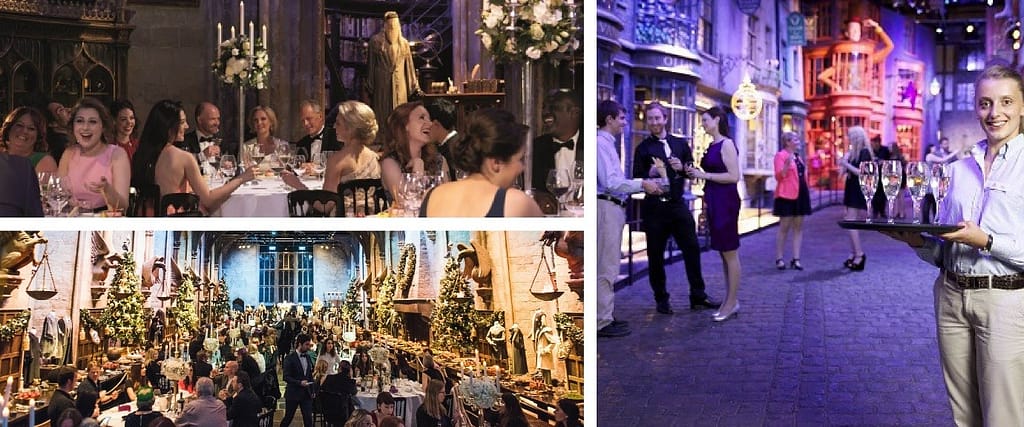 Where: Leavesden, Greater London
Great for: Harry Potter fans
What's Unusual? True wizardry – run your conference at Griffindor
What better venue to host a truly magical corporate event than the Warner Bros Harry Potter Studio Tour. This unique venue offers flexible interior and exterior spaces, which make interesting locations for bespoke and team building events. Located within the Studio Tour's two soundstages and Backlot, these inspirational spaces can be tailored to suit individual event requirements.
Accommodating up to 130 guests, the Studio Tour cinema is ideal for private screenings and presentations. The Preview Theatre is also available for up to 47 guests and is excellent for meetings and training events.
For the full Harry Potter atmosphere, the Studio Tour Backlot showcases a variety of exterior sets from the Harry Potter films, including Mr. Weasley's Ford Anglia, 4 Privet Drive and the Hogwarts bridge. This breathtaking space is ideal for creative event installations, team building events and Backlot summer barbeques. Dine in The Great Hall, see the Hogwarts Express and enjoy a butterbeer after exploring Dumbledore's office or the Gryffindor common room.
https://www.wbstudiotour.co.uk/private-events/
UNUSUAL VENUES IN SOUTH ENGLAND
Heading to the South West and South East for unusual venues we have located these beauties for your next corporate event.
South West
Thornbury Castle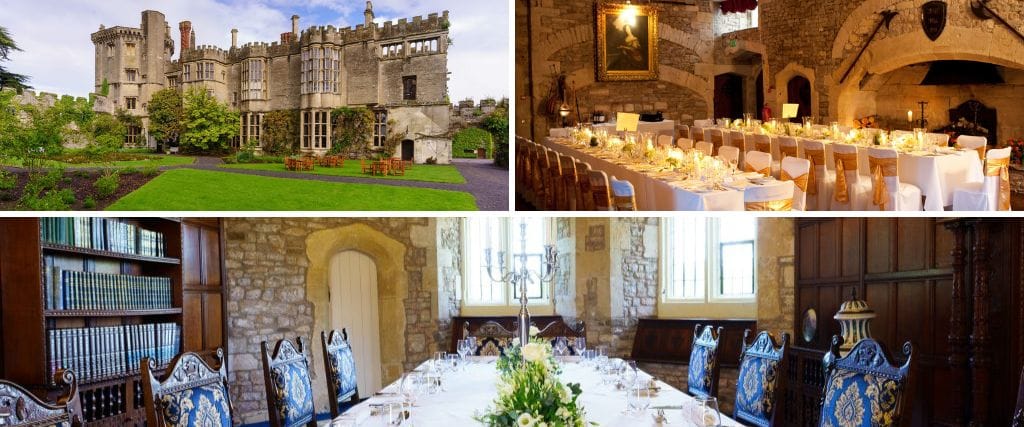 Where: Thornbury, Gloucestershire.
Great for: Pulling Out All The Stops
What's Unusual? Duh it's a castle!
If you are dedicated to impressing guests of your corporate event then this stunningly unusual venue is worth exploring. With grand dining areas for up to 70 people including their famous dungeon dining are, this venue creates an unforgettable dinner setting. For meetings take your team on a short trip to Bristol City Center where you will find a variety of event spaces.
If you really like your guests, then you could extend their experience by booking them into one of the 27 luxury bedrooms. Each bedroom is drenched in classical décor and traditional furniture. Created over five centuries ago and once owned by Kind Henry VIII the walls of this enchanting place tell a thousand stories. During breaks, your attendees can take a stroll around the picturesque gardens or nip to the spa for a spot of R&R.
https://www.thornburycastle.co.uk/meetings/
Carnglaze Caverns
Where: Liskeard, Cornwall
Great for: Cave dwellers
What's Unusual? Your conference in a cave!
If you're looking for a meeting space to wow your guests, Carnglaze Caverns on the southern edge of Bodmin Moor is sure to stay in their minds. A former slate mine with an interesting history, Carnglaze holds up to 400 guests and even has its own crystal-clear underground lake. The largest of the spaces, The Rum Store, was one of the nation's safe storage areas during World War 2 and is now used as a concert and an interesting corporate event venue with outstanding acoustics and a unique atmosphere.
There are a multitude of beautiful walks around the area and private tours around the caverns can be organised to inspire your guests before, after or between meetings. Carnglaze also makes an incredible backdrop for photos and product launches.
Wookey hole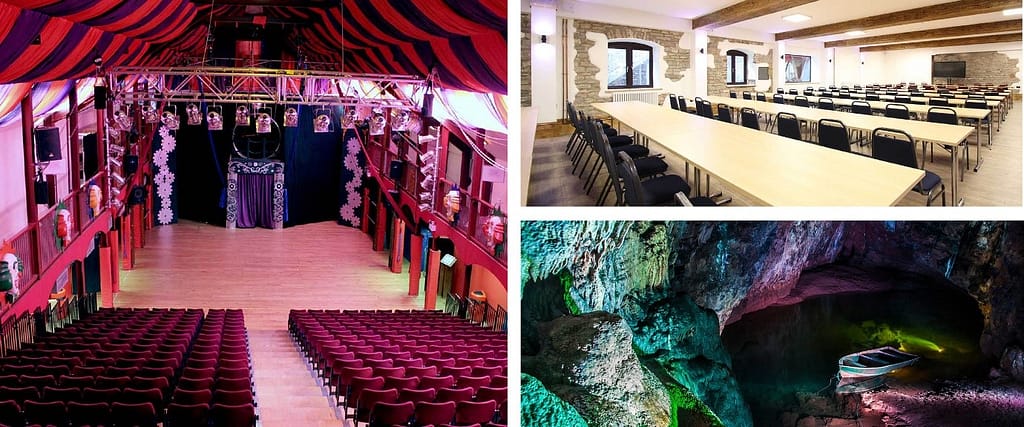 Where: Somerset
Great for: Cave dwellers (again)
What's Unusual? A circus-themed room and an underground lake
Boasting spectacular caves and stunning surroundings, Wookey Hole is set in the gorgeous rural county of Somerset, on the border of The Mendip Hills. Whether you're looking for a bright function room, a location for hosting team building activities or thrilling entertainment (above or below ground!), Wookey Hole is designed to impress. For a unique twist, hold your conference or meeting in the Water Wheel Suite, which looks onto the original water wheel, or Captain Jack's – The Big Room, which is lined with stunning circus décor and ornate mirrors. (Perfect for a Greatest Showman-themed event!)
Wookey Hole is home to the largest cave system in the UK and with each cavern laced with beautiful formations formed through water movements over millions of years, it is no wonder people have been visiting these caves since long before the Victorian era. Take a break from meetings and treat your guests to an exclusive tour of the caves and experience one of the finest natural wonders on Earth.
https://www.wookey.co.uk/business/
Bristol Museum and Art Gallery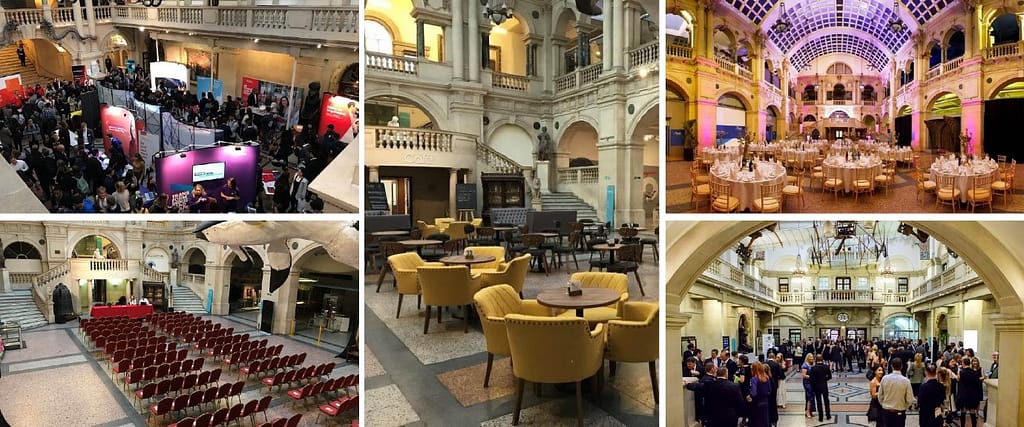 Where: Bristol
Great for: Art enthusiasts
What's Unusual? Spectacular and historic exhibitions
If you're looking for an unusual event venue for both corporate and private functions, with an educational and historical twist, Bristol Museum & Art Gallery is a venue to shortlist. From gala dinners and award ceremonies to conferences and drinks receptions, the incredible Edwardian Baroque architecture will make a great impression on your guests.
There are two main event spaces to choose from and the venue holds a capacity of up to 800 guests, as the whole museum can be hired for special events. You could even book a private gallery viewing for your event.
https://www.bristolmuseums.org.uk/bristol-museum-and-art-gallery/venue-hire/
South East
HMS Warrior
Where: Portsmouth, Hampshire
Great for: Boat lovers
What's Unusual? Hold your corporate event on a Victorian ship
Moored at the entrance to Portsmouth's historic harbour, the Victorian splendour of the HMS Warrior is a memorable and unique venue for all manner of events. From the grand surroundings of the Captain's cabin to the truly unforgettable setting of the gun deck, there are spaces to suit a range of occasions and styles. With a capacity of 288 for a seated dinner or 400 for a drinks reception or buffet, this is a really versatile venue for your event.
Wow, your guests with a tour of the ship and talk to the Quartermasters and guides on hand to answer questions. Then, make your way onto the upper deck for pre-dinner drinks and networking. This lovingly restored Victorian ship is sure to leave a lasting impression on your delegates.
https://www.nmrn.org.uk/venue/portsmouth-venue-hire
UNUSUAL VENUES IN THE MIDLANDS
Next we take our journey for exciting and unusual venues in the Midlands with these great options:
Mama Roux's
Where: Birmingham, West Midlands
Great for: Channelling New Orleans
What's Unusual? Go for a deep south theme with this jaw-dropping décor
Mama Roux's is an exuberant venue born from a love of New Orlean's and Deep South America. The interesting decor is truly unique, and really embraces the essence of the American south. It's a three levelled space, offering versatility and an enhanced view of the stage. With a capacity of 300, it's an exciting space for conferences, meetings or team building events. The venue is situated on Lower Trinity Street in Birmingham, a location that has become the key entertainment district of Birmingham's creative quarter. Get your delegate's creative juices flowing, with a stunning atmosphere filled with creative design and a vibrant colour scheme. There's nowhere quite like Mama Roux's for your meeting or event.
Mama Roux's is part of a trio of amazing spaces on Lower Trinity Street. Check out Spotlight and Café Colette too!
https://www.mamarouxs.co.uk/
Mythe Barn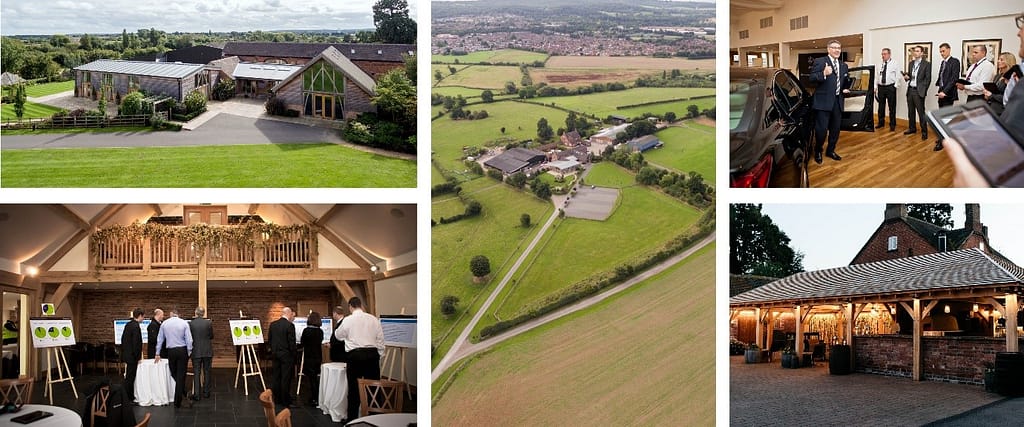 Where: Sheepy Magna, Atherstone, Warwickshire
Great for: Farmers (and countryside enthusiasts of course)
What's Unusual? An incredible converted barn and the last campsite of Richard III
Mythe Barn, with its oak frame and idyllic countryside views, cannot fail to instantly impress your delegates and guests. The fully exclusive product launch or conference venue offers a variety of stylish, bright and spacious event facilities surrounded by beautiful farmland. The huge, arched windows flood each room with daylight and in the evening, atmospheric lighting transforms the venue into a dazzling evening event space.
The venue itself is steeped in history and was thought to be the last campsite Richard III and his army before the Battle of Bosworth. Records from 1279 indicate there was a manor and chapel on the site served by the Monks of Merevale.
Treat your delegates to hand-cooked pizza, on-site team building activities and luxurious accommodation. Situated in Atherstone, just 30 minutes from Birmingham, Leicester, Nottingham and Coventry, it's also easy to commute to from the M42, M69, M1 and A5. Steeped in history, Mythe Farm was thought to be the last campsite of Richard III's army before the Battle of Bosworth and records from 1279 indicate there was a manor and chapel on-site, served by the Monks of Merevale. If you're looking for a conference in an idyllic, peaceful setting, Mythe Barn is perfect.
https://mythebarn-events.co.uk/
Coombe Abbey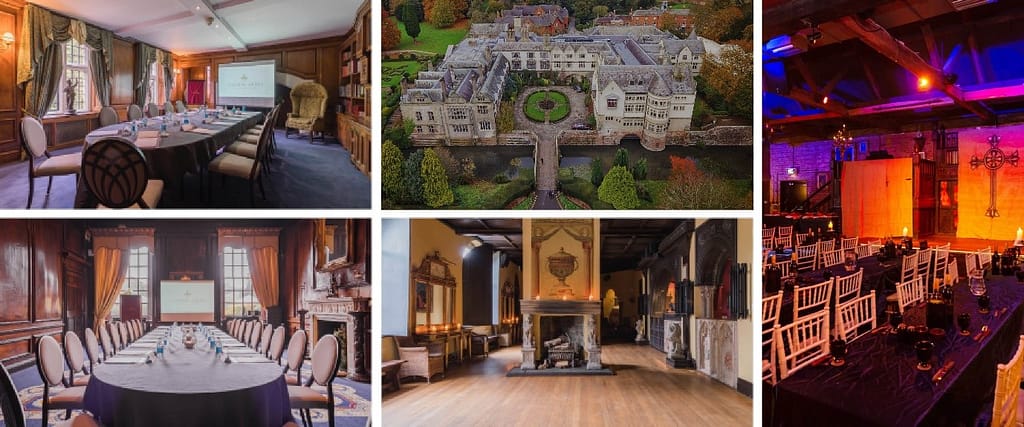 Where: Coventry, Warwickshire
Great for: Historians and those that appreciate a good knight's sleep (sorry!)
What's Unusual? Medieval banquets with a modern twist
If you're looking for a breathtaking venue surrounded by stunning grounds, Coombe Abbey Hotel should be high on your list. Situated in Coventry with 11 meeting rooms available, hotel accommodation and an onsite restaurant, it's perfect for a range of corporate events and conferences. Take a break in the beautiful gardens or get your delegates bonding with a fun team building task in one of the rooms.
You could even step back in time with a medieval banquet and enjoy a hearty feast fit for a king or queen. Held in the historic Abbeygate, with highlights including a full stage show, it makes an entertaining and fun night out perfect for any celebration.
Whether you need a room for an important meeting, to launch a new product or to hold a conference in unique surroundings, then impress and inspire your guests at Coombe Abbey Hotel.
https://www.coombeabbey.com/venue/conferences/
Drayton Manor Theme Park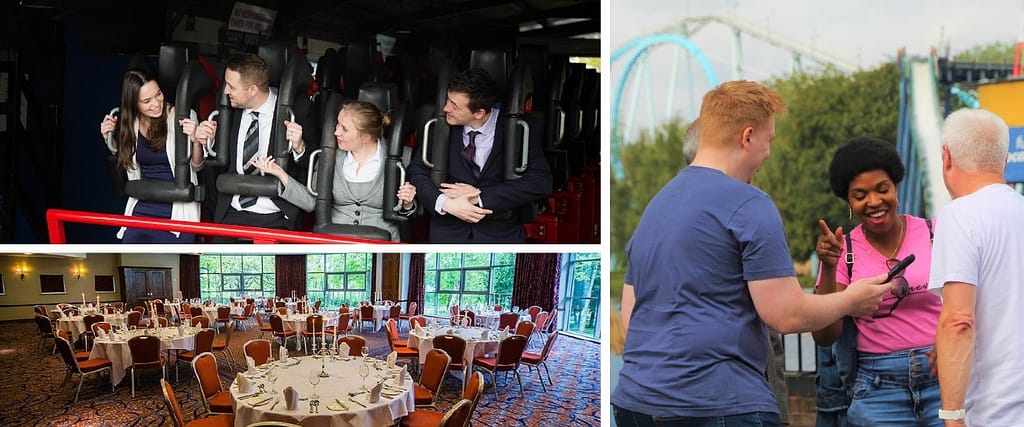 Where: Staffordshire
Great for: Thrillseekers
What's Unusual? Conferences and meetings amidst the thrill of the theme park
If you're looking for a venue to excite your guests, where better than a thrilling theme park? Surrounded by exciting rides and with access to Drayton Manor Zoo, Drayton Manor Theme Park makes a fantastic day out that inspires and rewards your team. Run team building events around the park or on the extensive grounds and even hire the entire park exclusively. After a day of informative meetings in one of the spacious conference rooms, everyone can let their hair down and experience the exciting rides or try the on-site restaurants. Why not end the day with a spectacular fireworks and laser display over the lakes?
Packages include use of the private boardrooms, in quiet spaces with flexible working options and can include refreshments, afternoon tea and a two-course buffet lunch. Guests can even stay onsite in the overnight accommodation, waking up to a full English breakfast to start the day right. With meeting spaces holding up to 500 people and outdoor space for up to 2,000 people, Drayton Manor caters to a wide range of events.
https://www.draytonmanorhotel.co.uk/conferences-meetings
UNUSUAL VENUES IN THE NORTHWEST
Heading up the UK we've located some incredibly unusual venues in the north and northwest of the country.
Runway Visitor Park
Where: Manchester
Great for: Concorde fans
What's Unusual? Well, dine under a Concorde?
For an event that will soar to new heights, Runway Visitor Park offers a variety of unique conference and event facilities, the largest of which is underneath the wings of the iconic Concorde! With a maximum capacity of 700 and good motorway links, this Manchester venue is sure to impress for conferences and dinners. The main space, the Concorde Hangar, boasts over 1600 square meters of flexible space, providing the ideal location for product launches, networking and trade events.
Additional meeting rooms are also available to complement your event in the main hangar. These are often used for breakout sessions or preparation areas and are equipped with everything you need for your meeting or briefing. Being located next to Manchester Airport, not only makes the venue a great viewing space for flights taking off and landing but also provides an easy commute for international delegates.
https://www.runwayvisitorpark.co.uk/
Revolucion de Cuba
Where: Liverpool
Great for: Salsa lovers
What's Unusual? The exotic vibe and latin twist
All work needs some play! Feed your delegate's wanderlust by taking a journey to the heart of Cuba straight from Liverpool's Albert Dock! With a real island experience, Revolucion de Cuba's unusual corporate event spaces combine everything you need for a professional working environment with that little bit extra. From meeting spaces and presentation facilities to unique, full-venue events, you can escape from the city to a place that takes you away. Choose from areas like the Havana Rum Bar and dine on amazing Latin-inspired dishes including tapas and a Mostrador buffet, all whilst looking over the dock. Your delegates will feel like they've been whisked away to an exotic location, inspiring them with bright, vibrant décor throughout your meetings before relaxing with a cocktail.
https://www.revoluciondecuba.com/corporate-events/
UNUSUAL VENUES IN NORTHERN IRELAND
Northern Ireland shows us how it's done with some of the best unusual venues in Ireland for your event or team building day.
Crumlin Road Gaol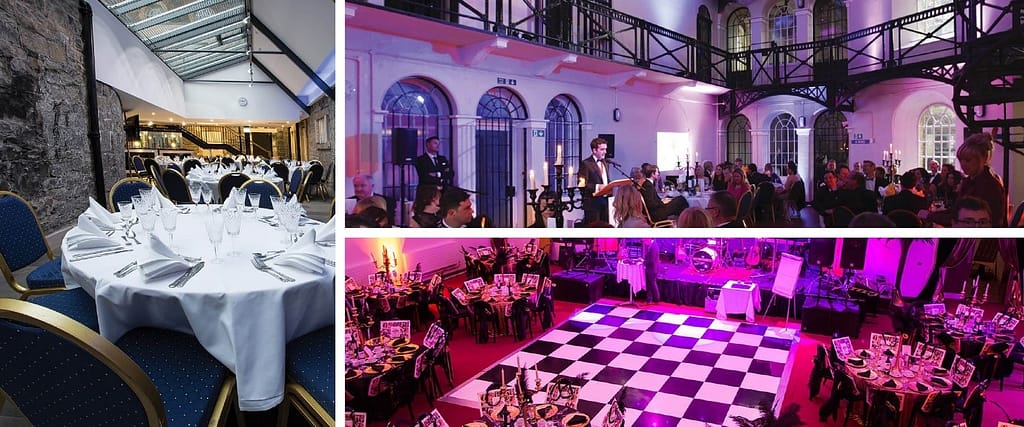 Where: Belfast, Northern Ireland
Great for: Prisoners
What's Unusual? Host your event whilst banged up in the clink!
Crumlin Road Gaol is one of Belfast's most beautiful and historic buildings, providing a unique and architecturally stunning space for any event. The Grade A listed building dates back to 1845 and closed its doors as a working prison in 1996. After extensive renovations, the gaol re-opened as a visitor attraction and conference centre. Located just minutes from Belfast City Centre, the venue is perfect for everything from small, intimate meetings to exclusive use of the entire building.
Choose from several rooms engrained with histories such as the Gaol Circle and C Wing or the Matron's Gallery. After a day of meetings and conferences, inject some fun with a guided tour or Living History character to tell guests their stories. Team building activities such as Murder Mysteries and CSI would work perfectly in this space, with the spooky atmosphere adding to the entertainment.
https://www.crumlinroadgaol.com/
UNUSUAL VENUES IN SCOTLAND
For the most unusual venues in Scotland, we've tracked down some spaces to guarantee that it won't just be the scenery that will wow your guests.
The Lodge on Loch Goil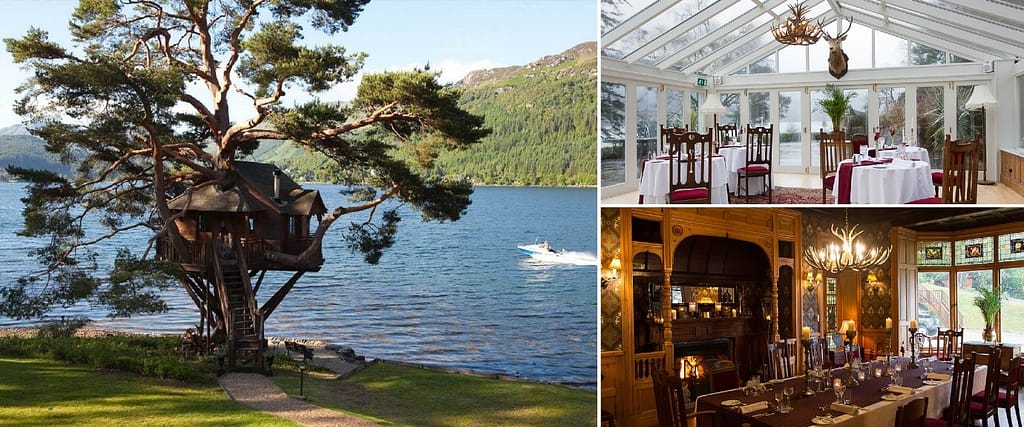 Where: Loch Goil, Scotland
Great for: Treehouse and loch fanatics
What's Unusual? A gorgeous treehouse over a stunning Scottish loch
The Lodge on Loch Goil is a stunning events venue nestled on the shores of Loch Goil. Boasting a beautiful location between the loch and the mountains, this venue is the perfect place to refresh your mind in a peaceful setting. Just over an hour's drive from Glasgow, this Victorian private country house also has its own unique treehouse overlooking the loch, a great space for dining with special guests or briefing small groups.
Their award-winning restaurant and rooms give you the option to extend your meeting to an overnight event or is ideal for guests who have travelled from further away. If you're looking for space away from the crowds, The Lodge at Loch Goil should definitely be on your list.
https://thelodge-scotland.com/
Signet Library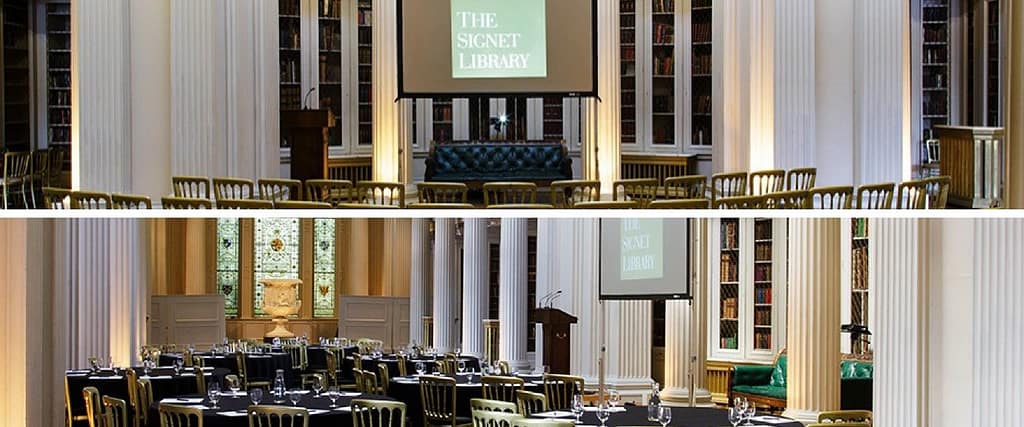 Where: Edinburgh, Scotland
Great for: Reading
What's Unusual? Classic literary surroundings and incredible architecture
One of Edinburgh's finest Georgian buildings, The Signet Library offers an exclusive and inspiring setting, whether you are planning a corporate party, conference or evening event with a difference. Set in the heart of beautiful Edinburgh, the elegant and historic surroundings make any event here a memorable experience. The function rooms all share a sophisticated and stylish edge that is unique to The Signet Library and the venue holds a capacity of up to 300 delegates.
Impress delegates in the magnificent Upper Library where you're surrounded by wonderful literature or meet in The Commissioners' Room, which provides a prestigious setting for business meetings or training sessions. The venue benefits from the modern facilities expected by delegates, while the interesting historic architectural features and soaring classical ceiling will be an inspiration for attendees and make a refreshing change from the norm.
https://www.thesignetlibrary.co.uk/
VARIOUS UK LOCATIONS
Centre Parks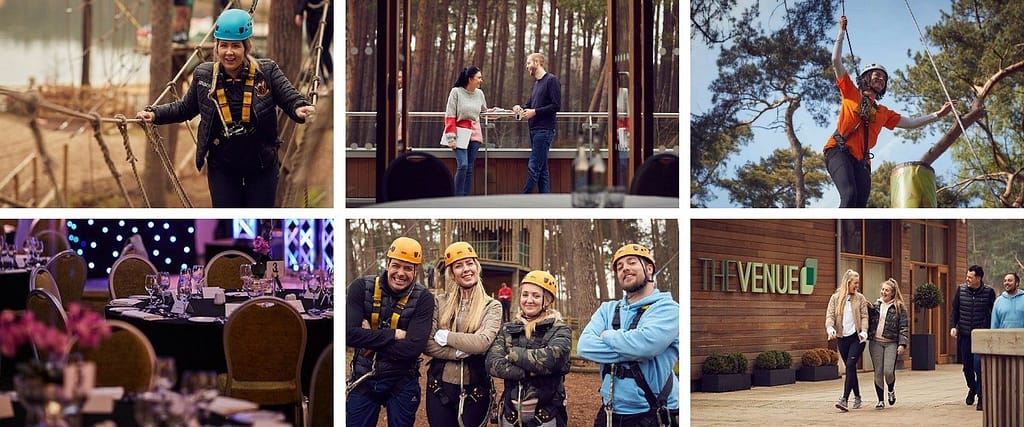 Where: Sherwood (Nottingham), Longleat (Wiltshire), Whinfell (Cumbria), Woburn (Bedfordshire), Elvedon (Suffolk) and Longford (Northern Ireland)
Great for: Getting active
What's Unusual? A conference in the forest
A unique alternative for conferences, bespoke events and team building, at Centre Parcs, you'll find everything you need to plan memorable events all in one place. Surrounded by 400 acres of natural woodland, it's an inspiring venue to refresh minds. Spending time in nature is proven to boost productivity and encourage creative thinking, making Centre Parks a great venue for conferencing.
Holding events at four locations across the UK, you can step out of the hustle and bustle and into relaxing woodland venues. At each village, you'll find flexible packages to choose from, surrounded by 400 acres of forest to explore, a sandy beach and water sports lake. When you're not in The Venue, take time to discover miles of woodland paths, enjoy a post-meeting walk along the lakeside or simply take some time to unwind in a range of onsite luxury accommodation.
For a challenge, try something new with a huge range of indoor and outdoor team building activities. Make a splash in the Subtropical Swimming Paradise, enjoy eating out in the onsite restaurants, or relax in the award-winning Aqua Sana Spa.
https://events.centerparcs.co.uk/
The Studio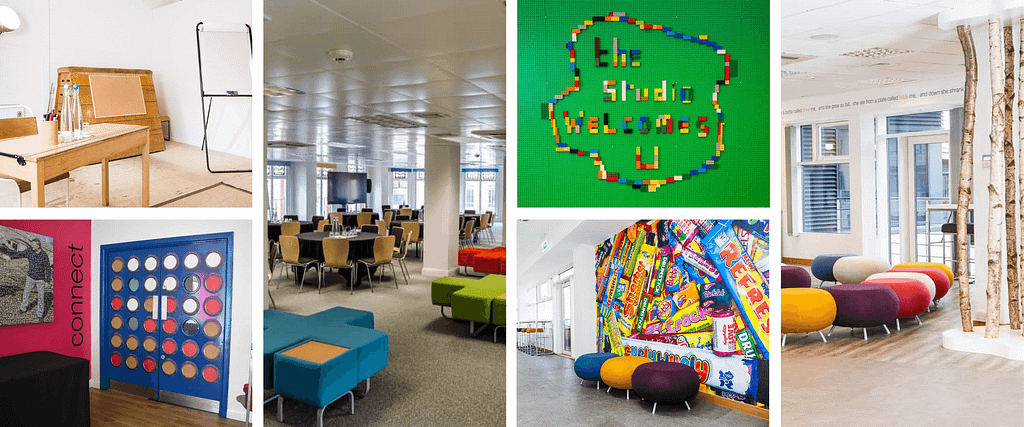 Where: Birmingham, Manchester, Leeds and Glasgow
Great for: Bright lights, big city
What's Unusual? Vibrant furniture, lego walls and the funkiest decor!
What's not to love about the aesthetic of these incredible spaces?! Based centrally in some of the UK's busiest business cities, The Studio's locations possess bold, standout furniture, retro sweet wall murals and silver birch pillars. The doorways are themed with pop-culture references, so as you enter your meeting, you may feel like you're walking through the tardis or into a game of connect-4!
From intimate meeting spaces with plush furnishings for smaller team get-togethers to spacious innovation zones for inspiring conferences and events, The Studio offers everything you need for creating exciting events in bustling cities. All situated in central locations, each The Studio venue boasts extensive transport links, and delicious catering options and can even accommodate exclusive events.
Whether you're looking for live, hybrid or virtual events, team building or conferencing, The Studio's venues have something to suit your needs. With high-tech AV equipment, the latest streaming technology and great accessibility across their venues, your event here is sure to be a success.