(Updated Jan 2023) We've gone on the hunt for intriguing and unusual team building activities to challenge typical misconceptions around team building.
Below are 23 amazing team building activities you and your colleagues will never forget!
No one wants to be that person. The person who signs off on those awkward team building ideas that leave staff deciding if they should call in sick or just wait for everything to be over so they can get back to work.
Getting colleagues onboard for a corporate away day is hard enough without tedious activities where everyone is shuffled into a conference room under fluorescent lighting and must pretend to enjoy games that feature trust falls, pen and paper games, hand-holding and embarrassing truth and lie icebreakers.
Obviously, corporate team building works much better when people enjoy getting involved, with events that are fun and unique. People like activities that leave them feeling they've accomplished something, maybe even tick off an item on their bucket list – See our Top Team Building Activities that actually make a difference.
So, we decided put together a post on some incredible team building ideas that will completely change your perception, can work as amazing incentives and hugely benefit employees.
The question is – is your team daring enough to give one a try?
Indoor Skydiving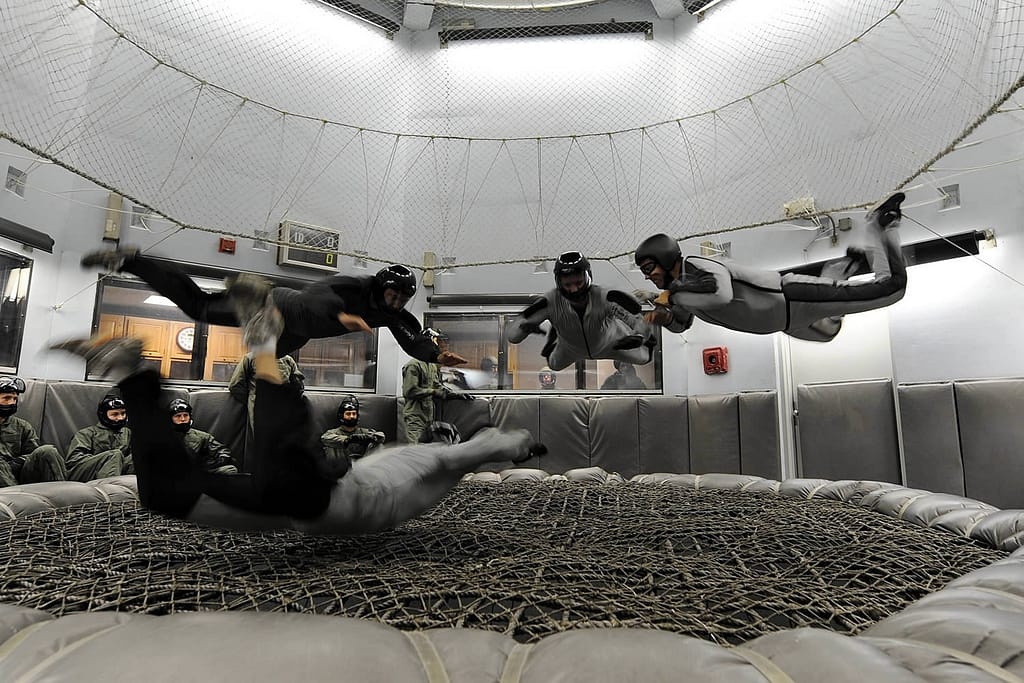 Prepare: Altitude Tablets
Experience: Adrenaline, flappy cheeks
If you're not entirely sure your team includes enough thrill seekers to actually jump out of a plane at 12,000ft, then indoor skydiving is one of those unique team building activities that is available for people looking for something completely different.
With expert help, your colleagues can experience the joy of flying in a purpose-built vertical wind tunnel without the need for jumping from height or use of a parachute.
This activity will certainly achieve a real buzz with the team by helping to overcome fears and create great memories that will last a lifetime. What's more, some indoor skydiving companies accept children as young as 3 and those with a range of disabilities – ensuring everyone can be included – so great for family fun days (what is a family fun day?).
Ice Crafting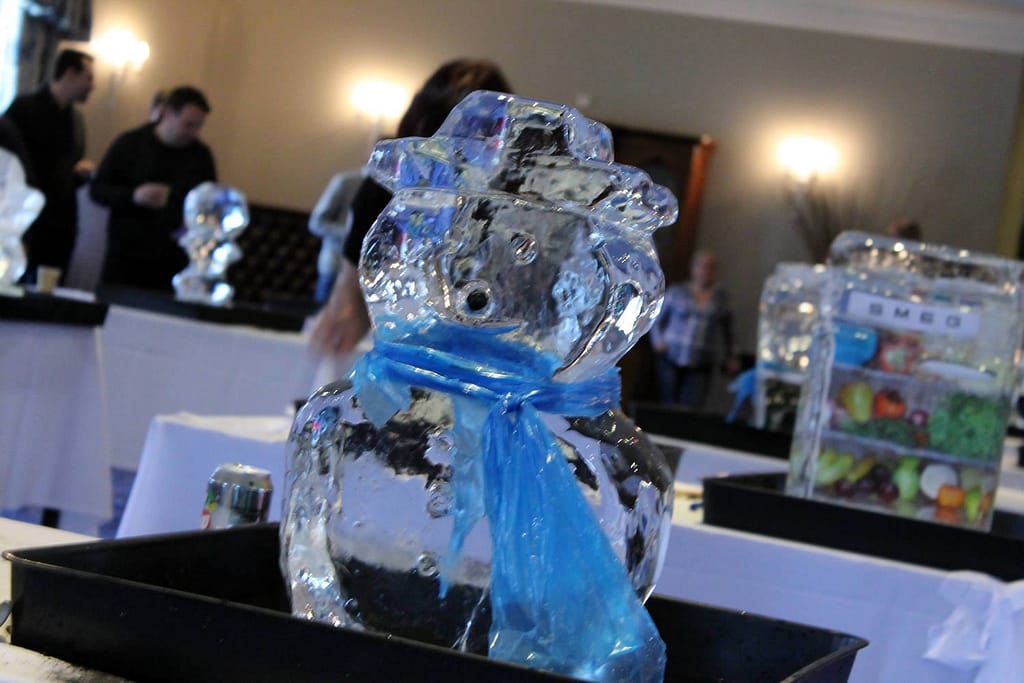 Prepare: Gloves
Experience: Increased creativity
Not so much adrenaline but this intriguing indoor team building activity is certainly something completely different and great for rainy days. Ice carving involves spending time with a master craftsman to learn the art of ice sculpture and then setting to work on your own design.
Let those creative juices flow and a chance to learn an interesting artistic skill. Mentally stimulating and creative, this can also be really fun and provide great levels of satisfaction – albeit a little chilly on the fingertips!
Survival Plane Crash Simulation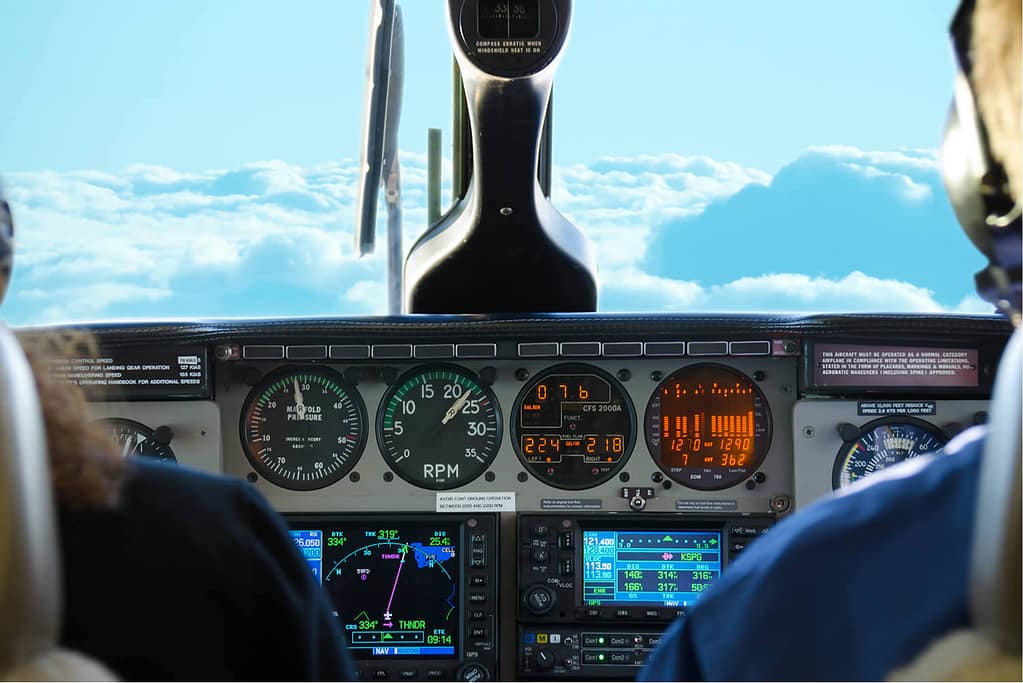 Prepare: A steady hand
Experience: A great sense of achievement (or failure!)
For an extreme experience for team bonding, improving problem-solving skills and potentially saving lives, out of all the unusual team building events – this ticks all the boxes.
Requiring some real backbone, teams learn how to survive a plane crash at sea with exercises including raft evacuations, underwater escape, surface-water survival and all in a real-life open water environment.
Complete with a highly experienced safety team, breathing apparatus and flotation devices, this type of survival simulation team event is effective even for non-swimmers – so no excuses!
Flash Mob Dances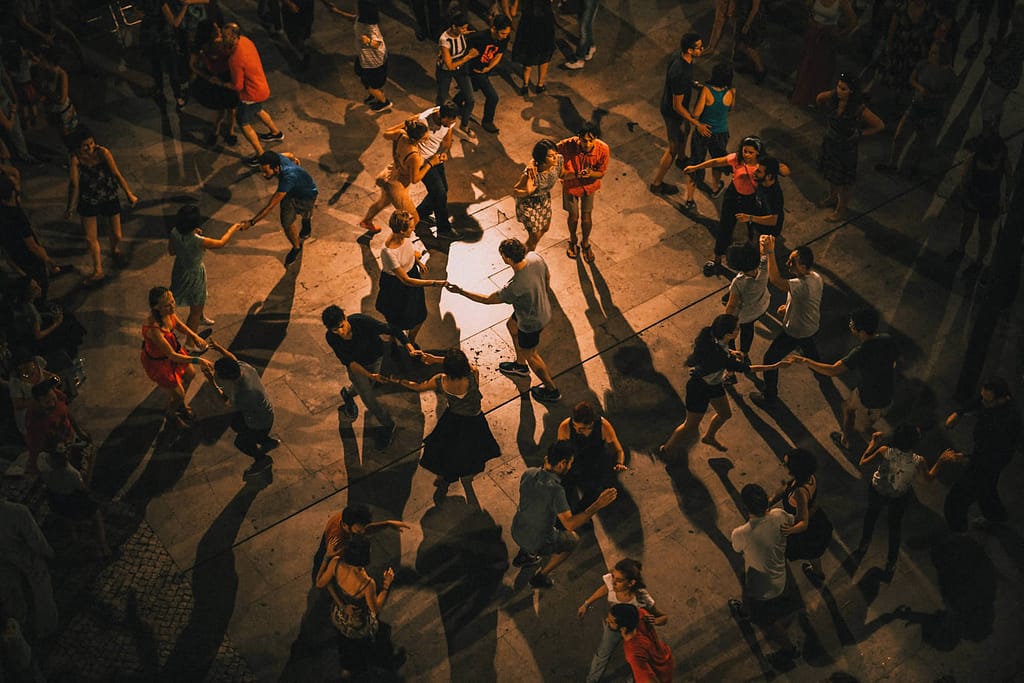 Prepare: Dancing shoes
Experience: Positive energy and watching the boss try and dance
For an amazing activity that is a little less intense, flash mobbing can be a great idea for bringing teams together in a fun, friendly way, that not only inspires teamwork and cooperation but can also be used for marketing purposes and social sharing.
Participants first meet to rehearse some basic but seriously funky dance moves before they choose a public location to break out their dance to the surprise and delight of innocent bystanders.
Ideal for celebrating or enhancing conferences, flash mobbing is a fun team building craze that guarantees smiles all around.
James Bond for the Day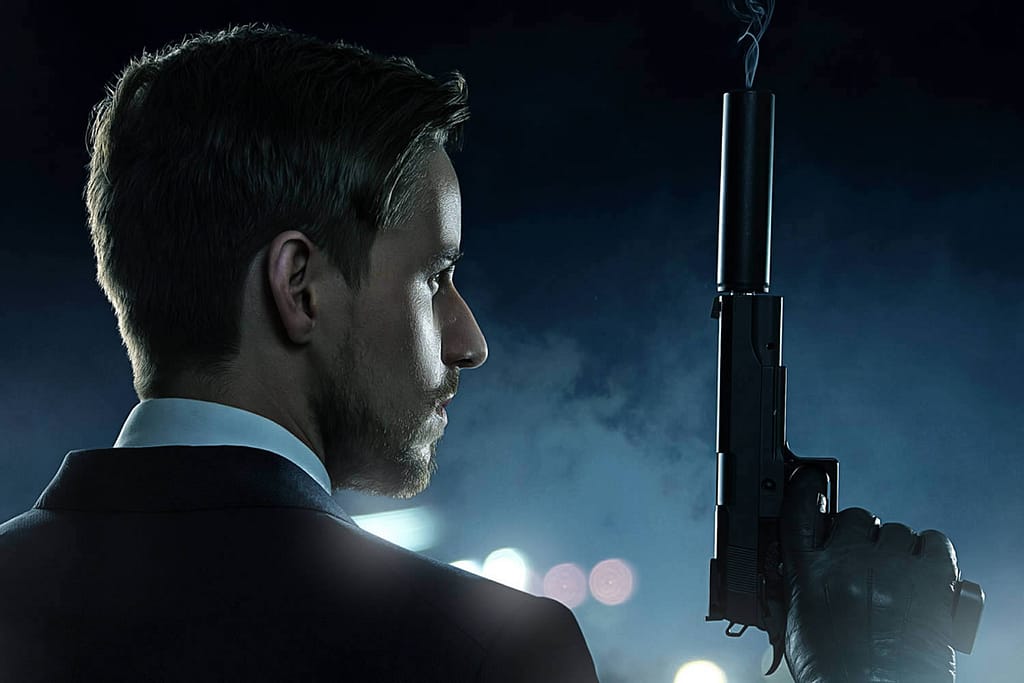 Prepare: Martini, shaken not stirred
Experience: High intensity espionage
This 007 activity will ensure your team is shaken, not stirred into action as colleagues channel their inner secret service agent to complete a series of spy missions.
As far as unusual indoor team building activities go, this one is really varied, giving your team a taste of challenges to unravel clues, problem-solving and identify a murderer before heading outside to take up their weapon of choice and manoeuvre a getaway vehicle along an escape route.
Maintaining the sophistication of Bond, teams will need to keep their cool to complete their mission before time runs out. This bond-style activity codenamed Spyfall is a super fun competitive challenge to ignite ambition and motivation.
Crime Scene Investigation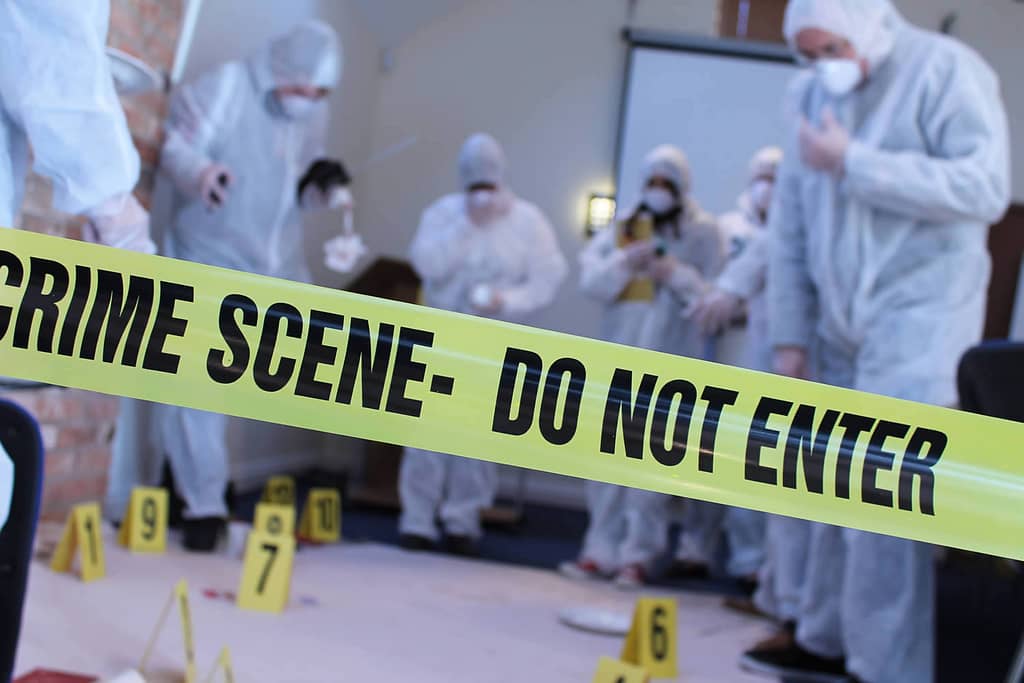 Prepare: White suit
Experience: Solving a murder guv
Who doesn't like a good detective story? Well, how about being in one and working out the crime with your team mates? A great way of learning how to work together to reach a common goal, but in a thoroughly engrossing and interesting way as you tackle a murder investigation.
CSI events rarely fail to get everyone really involved and work great with big or small groups. It's also a great opportunity for leaders to emerge as they start to naturally manage the team to solve the case.
Going Caving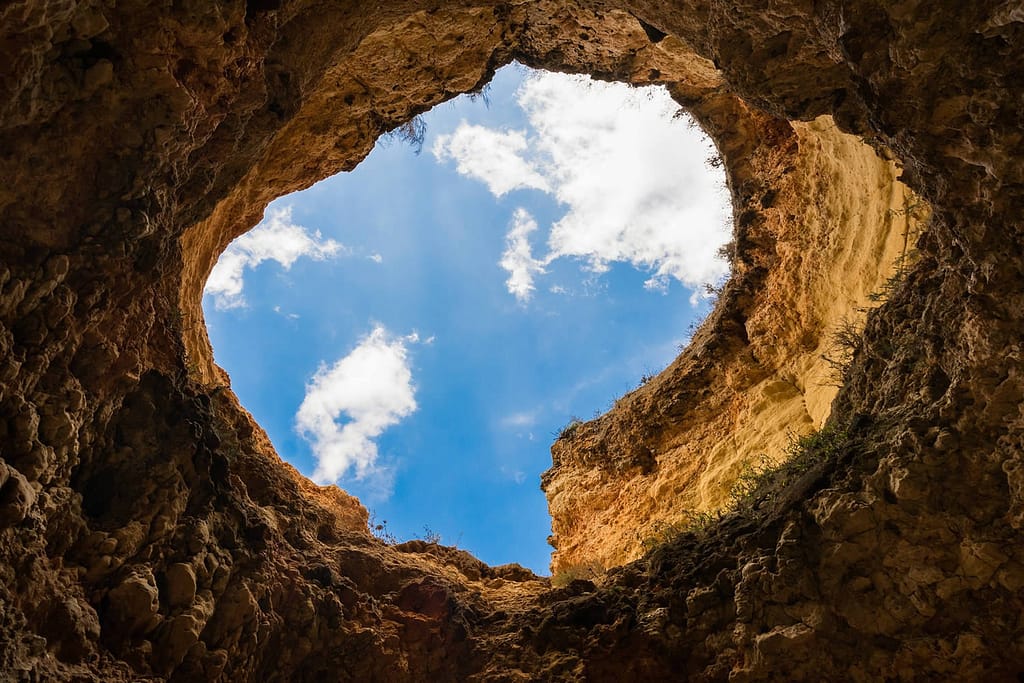 Prepare: Boots, hardhat and torch
Experience: Overcoming claustrophobia
For genuine adventure and strengthening a team, caving is a team bonding activity that will leave each person feeling an incredible sense of achievement.
Equipped with safety equipment, a water-resistant suit, a helmet and torches, your group will head deep down into a cave with experienced guides to the fascinating world underground. Depending on abilities, skilled group leaders will vary routes and allow for a choice of obstacles to suit different members of the team.
A unique team building activity that will inspire trust and invigorate your team, caving is an intriguing option that is available all year round – and may even allow your team to collect a fossil as a souvenir for their desks.
Raft Building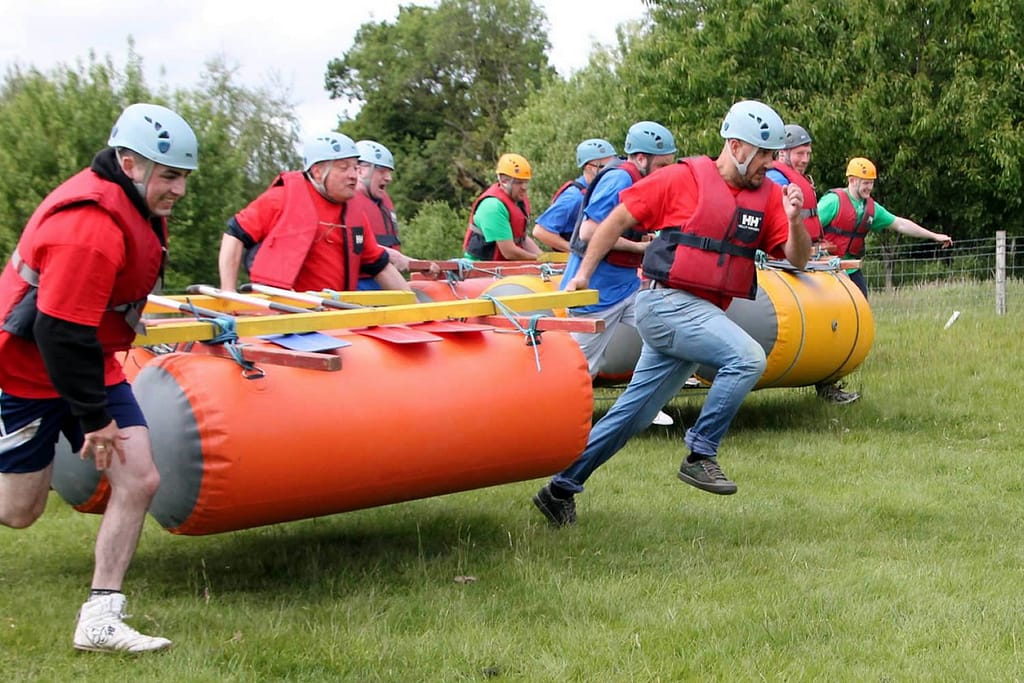 Prepare: Swimming trunks
Experience: Laughing at your colleagues when their raft splits apart in the river
Much more fun than being cooped up indoors. In this simple action-packed team building activity, you work with your group to build the best raft you can and race it down the river.
Re-live those childhood memories and summer fun competing against other employees in this wet and wild river run. This is often very effective for really gelling a team together and encouraging competition by pitching team against team.
The ability to see all your hard work rapidly come together can be really rewarding. All that banter often has a great effect on team bonding too.
Duck Herding
Prepare: Bring bread – lots of it
Experience: Something very odd
For something completely off-the-wall, duck herding is one of the more sedate but definitely unusual team building activities that is growing in popularity. Team members work together to herd a gaggle of adorable waddling ducks across a course, down slides and into a pen.
This quirky country pursuits activity is a great way to get your team out into the open countryside and improve communication skills, but please, don't attempt it yourself by heading out to the nearest duck pond or lake. Only use a professional team that can ensure our feathery friends are cared for properly.
Stunt Team Workshop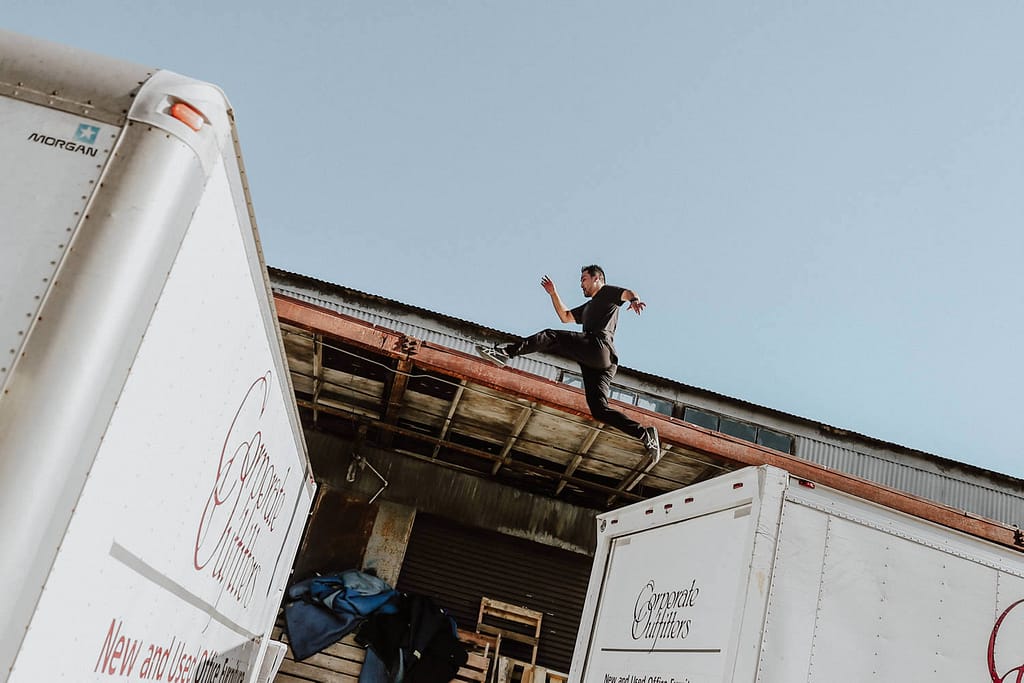 Prepare: Firesuit
Experience: Getting out of your comfort zone
As long as your team can still make it into work the next day, then this seriously cool team building challenge is one to consider for groups that can really prove they have what it takes to get the job done.
This action-packed opportunity will see your colleagues learn the disciplines of a professional stunt person, including stage combat, swordplay, weapon handling, car stunts and even falling down stairs…. safely. Yes really.
Employees will need to push their physical boundaries, however getting out of a comfort zone is a great way to boost confidence and adjust mindsets.
A stunt workshop is a completely power-packed adventure that almost tops the charts for unusual team building events.
Bubble Football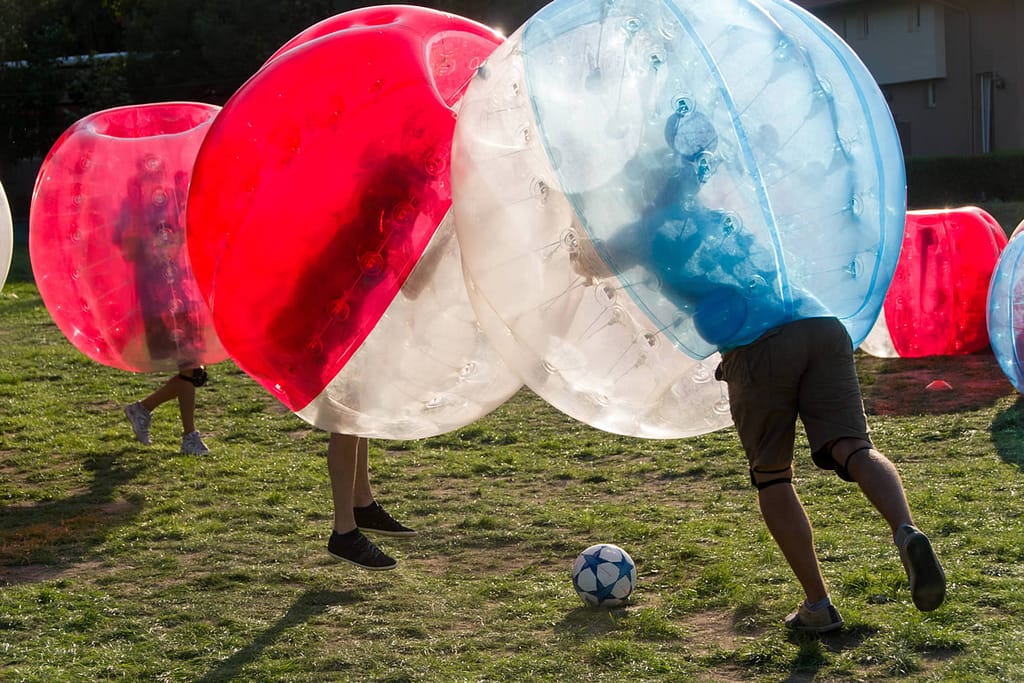 Prepare: With a warm-up
Experience: Literally bouncing off people
Forget the ref and red cards, this cranky corporate kickabout is footy with a fantastic twist. Stick on your bubble suit and prepare for bumping and bouncing, as you and your colleagues fight it out on the pitch.
Out with the offside rules, wearing your bubble suit gives you full rights to let off steam and scamper around diving, charging and, well – basically doing whatever you feel like! Great for letting your employees off the lease and enjoy some boundless fun on the pitch.
Cliff Jumping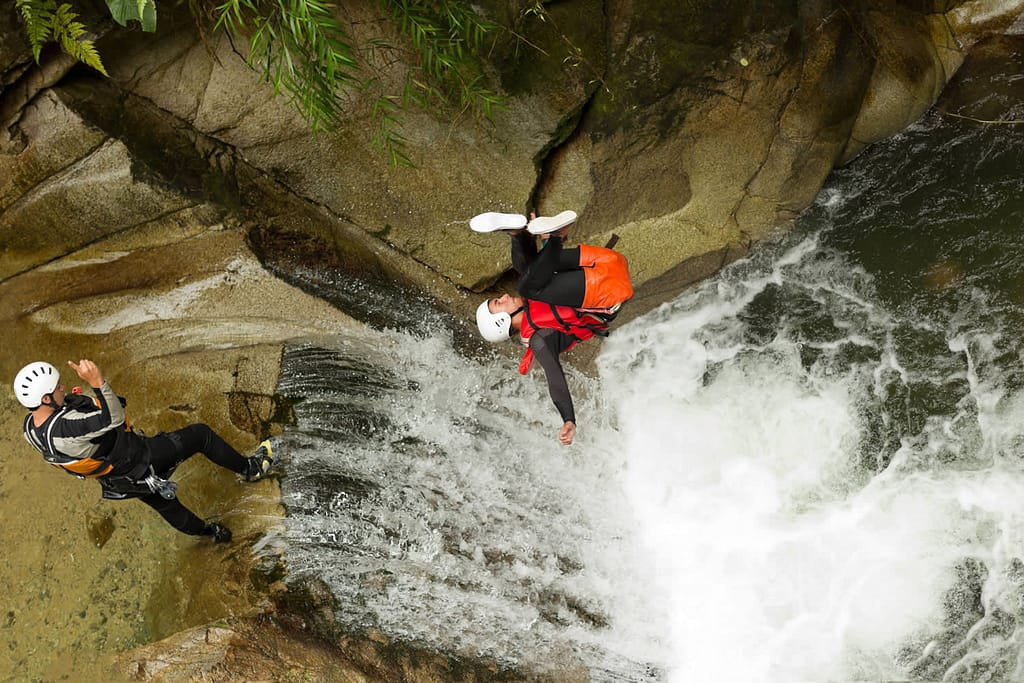 Prepare: Your will
Experience: Fear
Not that strange but pretty crazy. With this adventurous outdoor activity, if it all becomes too much at the office, you can literally jump off a cliff! With heights between 3ft and 45ft, it's up to you how far you want to go in this potentially terrifying team building event.
Hurl yourself off the cliff and plunge into the cold waters of the pool below. A great event for just letting go and being egged on by your colleagues to push yourself to the limits. Far more exciting than your typical team building events and a real chance to see how far you can go.
Chariot Racing
Prepare: Full body armour
Experience: Exhilaration, cuts and bruises
Ever fancied hopping onto a chariot like you're in Ben Hur and plundering around like a centurion? Well this could become a (partial) reality. In the 'Flat Out Chariot Challenge', you and your team-mates build a cardboard chariot capable of supporting whoever draws the short straw.
Then two other team-mates take the role of the horses and tow your newly produced prototype as fast as you can carry them – pitted against your rivals.
Action-packed and high adrenaline, this quirky team building activity would keep even the biggest cynics engaged.
I Work in an Office… Get Me Outta Here!
Prepare: At the reptile house
Experience: Tastes you'll never forget
Fancy meeting Tara, the tarantula? Or maybe you'd prefer to cross the snake pit. This one is not for the faint-hearted.
Based on the popular TV show 'I'm a Celebrity…Get Me Outta Here', contestants have to perform a series of fear-inducing tasks and work together to get through this gruelling experience.
Goodbye corporate dinner, you can look forward to munching on creepy crawlies and bugs in this culinary conundrum.
Finally, you can look forward to getting up close and personal with slithery jungle inhabitants. Great for getting teams to work together and likely to keep everyone engaged as the boss tucks into another interesting insect.
Black Snake Productions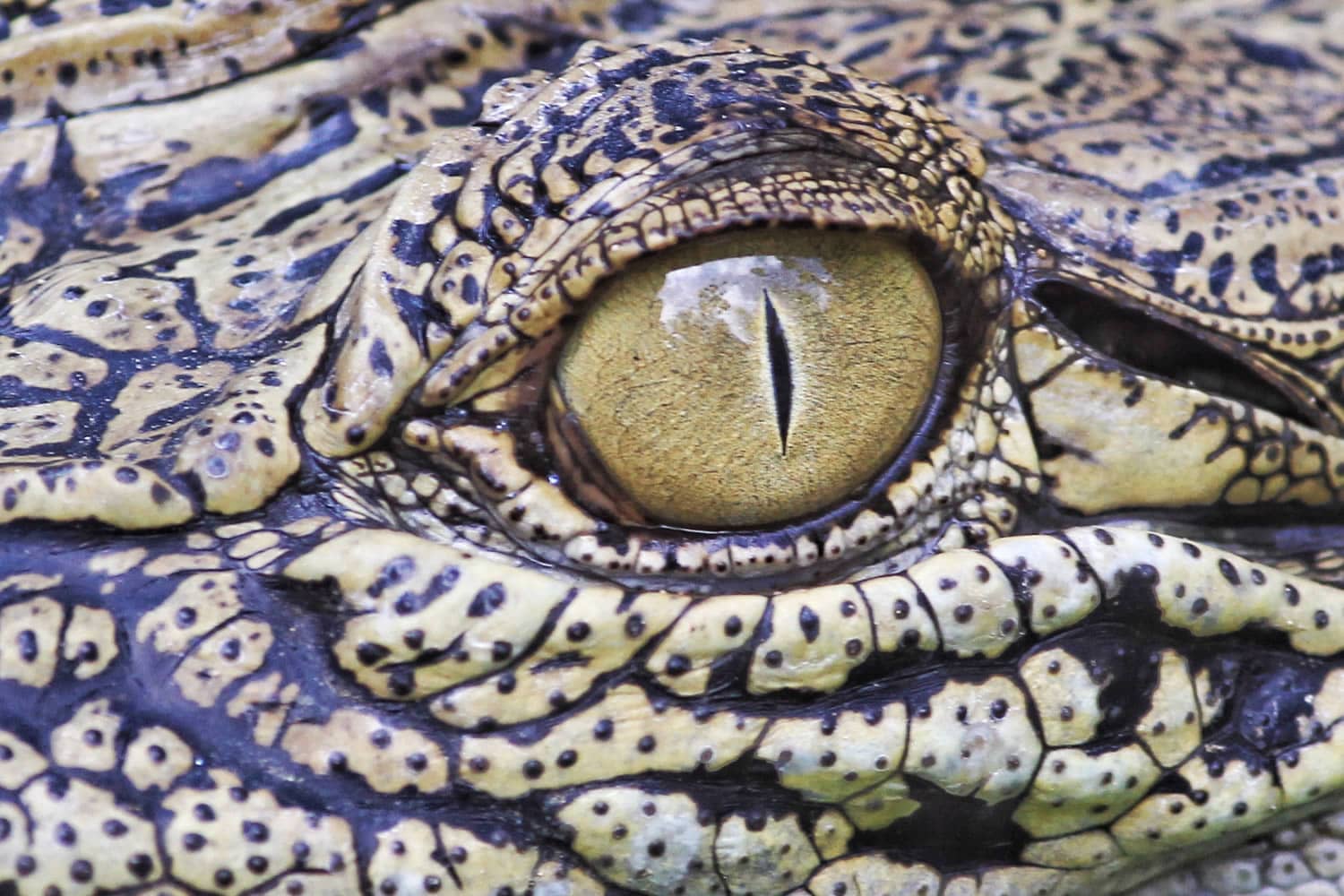 Prepare: Your anxiety levels
Experience: Saying hello to crocodiles and pythons
Ever fancied mixing with dangerous animals? Now is your chance! Black Snake Productions in australia provide team building with a twist. Introduce crocodile handling, pythons, spiders and lots mmore into an explosive corporate event.
Work as a team to handle a 2m crocodile or how to stay at the top of the food chain! Meet Birds of Prey and overcome obstacles to handle the animals effectively.
Great for building confidence and getting everyone to work together to help each other face their fears!
Japanese Sentō Bathing ('Naked Relationships')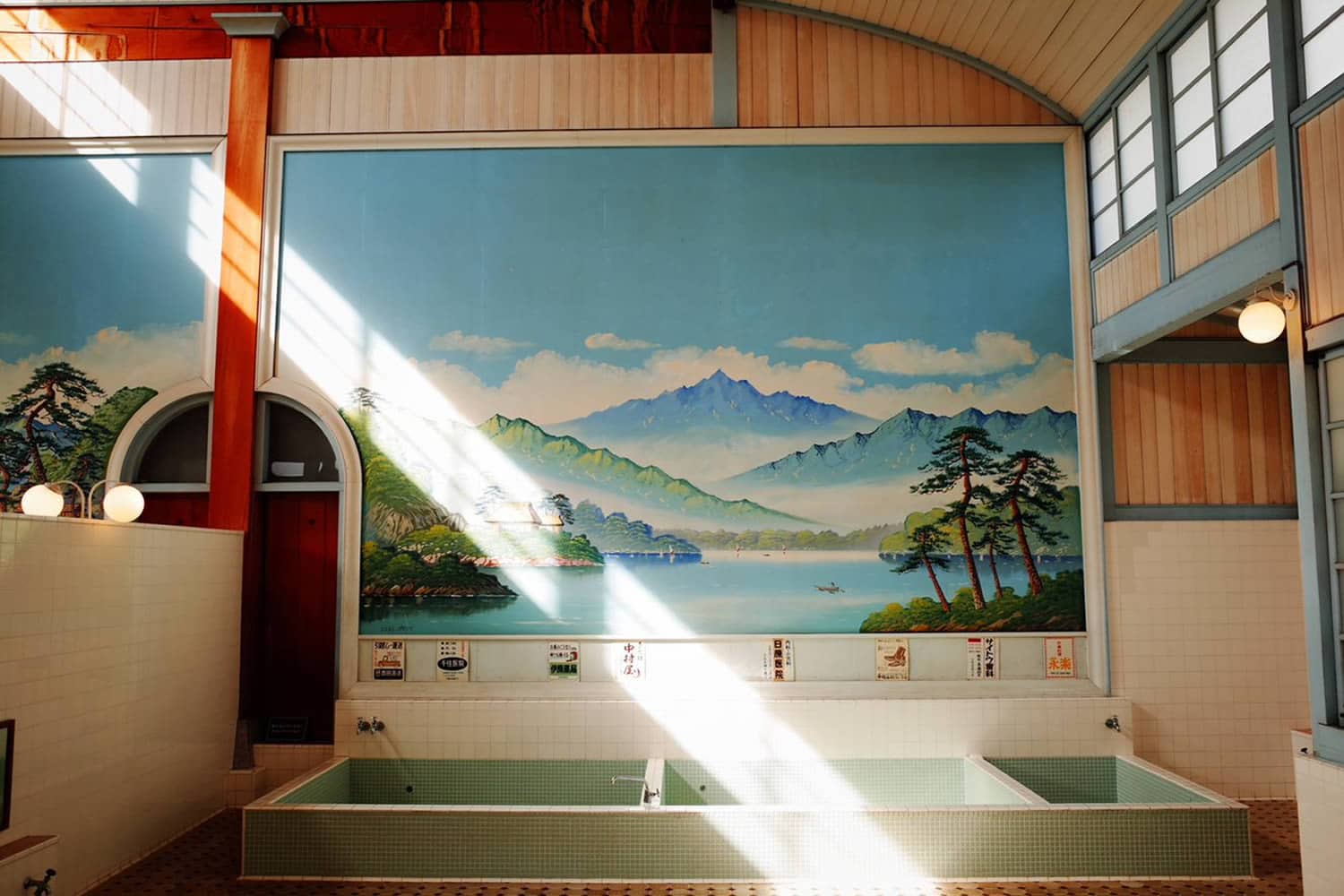 Prepare: To get naked
Experience: Knowing your colleagues like never before
A team bonding experience like no other, this activity requires each person to cleanse and enter a large hot bath or hot spring together… completely naked.
A respected tradition that is still going strong in Japanese culture, where same genders bathe together. It is common practice in Japanese team building to invite your work peers and business clients to join you in this unusual bonding indoor experience. The concept and the results of bathing in the nod are thought to bring a levelling, equality and a kinship, demonstrating the ultimate trust and openess with each other.
Unsurprisingly, there hasn't been much take-up for this experience in the UK yet, but perhaps it's time to take a 'dip' into this brave new method of team bonding?
Fire Dragon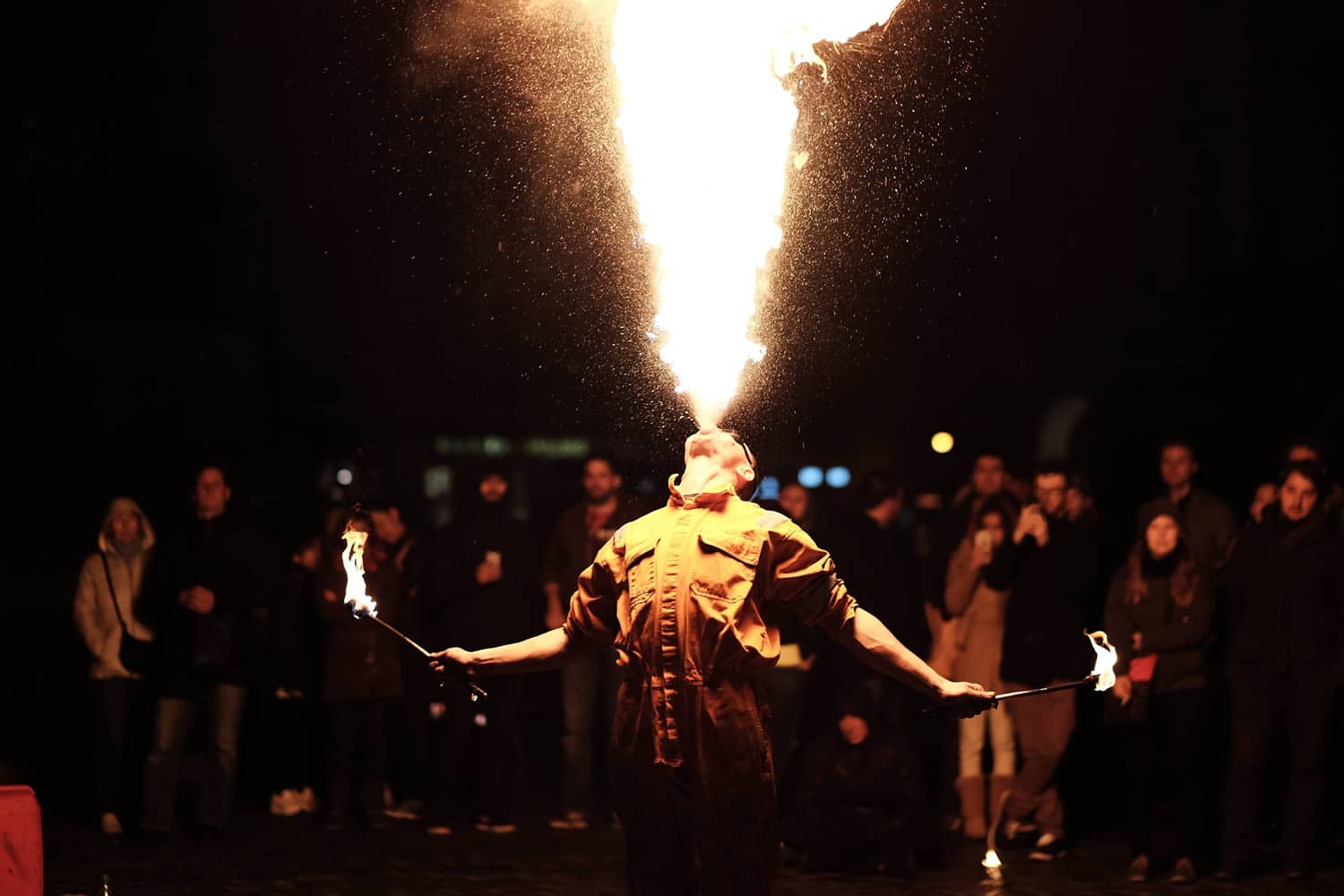 Prepare: With fire-retardant clothing
Experience: Newfound respect for fire
Just imagine the look on the faces of your team when you introduce this unique team building experience… learning the art of firewalking, fire dancing, flaming board-breaking, fire eating and more. In this incredible training event, groups support each other as they face their fears together. Watch in awe at the professional instructors and then realise in fear, that you, yourself will be also doing this.
With safety being paramount to avoid any third degree burns or shredded skin, this fire training event is not only a great way for teams to gel and encourage each other but is also a memorable experience that will (definitely) never be forgotten.
Survivalist Experience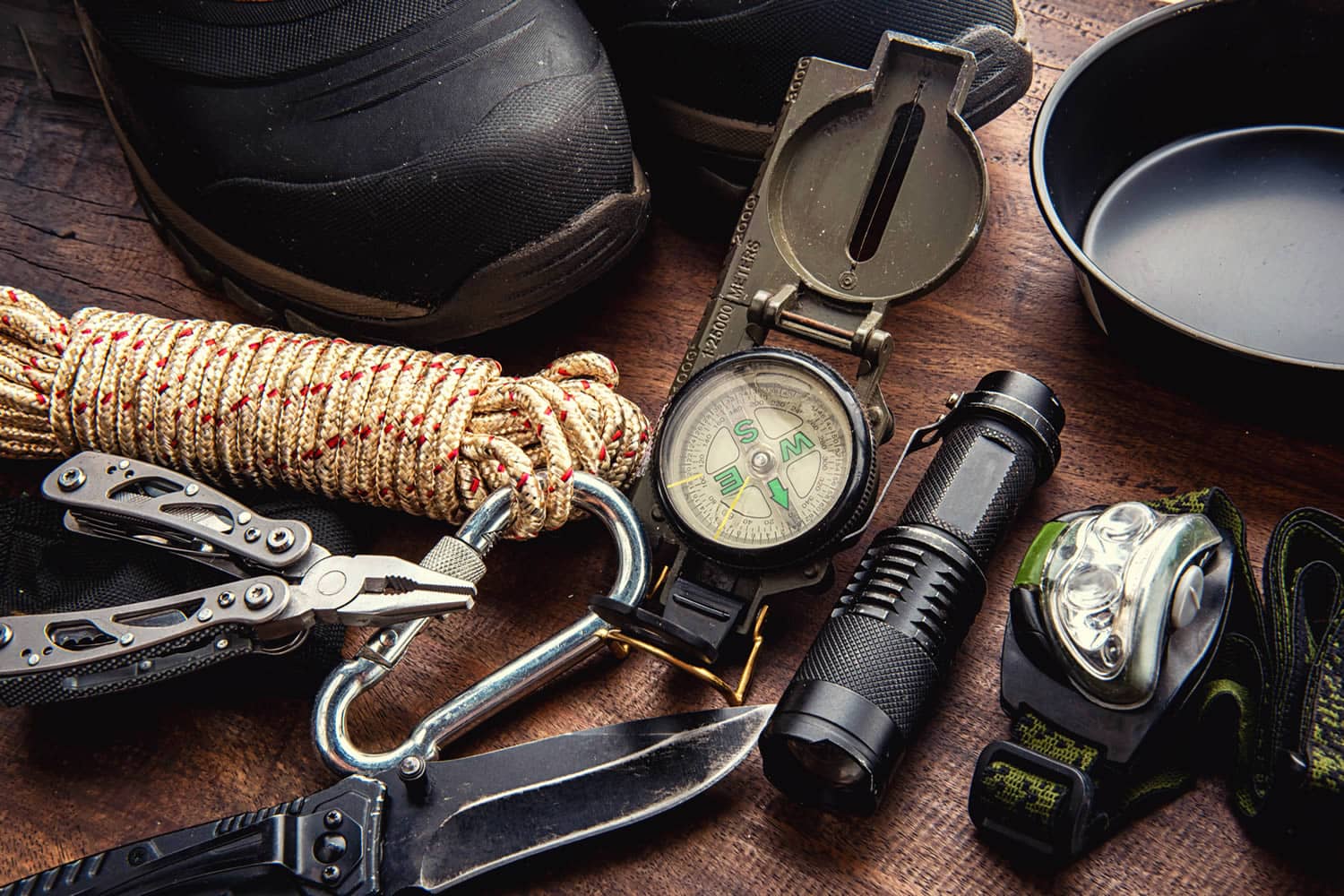 Prepare: Your navigating skills
Experience: Smartphone separation anxiety
This is a popular outdoor team building event to tests the nerve, skill and physical ability of every member of your team. Designed for smaller groups the idea of the Survivalist is for teams to navigate along a mysterious route, cracking codes, collecting equipment, crossing rivers and navigating their way to locations and be the first to reach a set destination.
In a world where we rely heavily on finding answers with a touch of a button, this activity forces to team members to abandon the reassurance of the smartphone and rely only on a map, compass and their wits to reach their destination (all under the close eye of a trained event activity host, for safety).
Not only does this generate some great competition and boost confidence, but it also helps to determine which of your colleagues are natural leaders, problem-solvers and communicators.
Firepower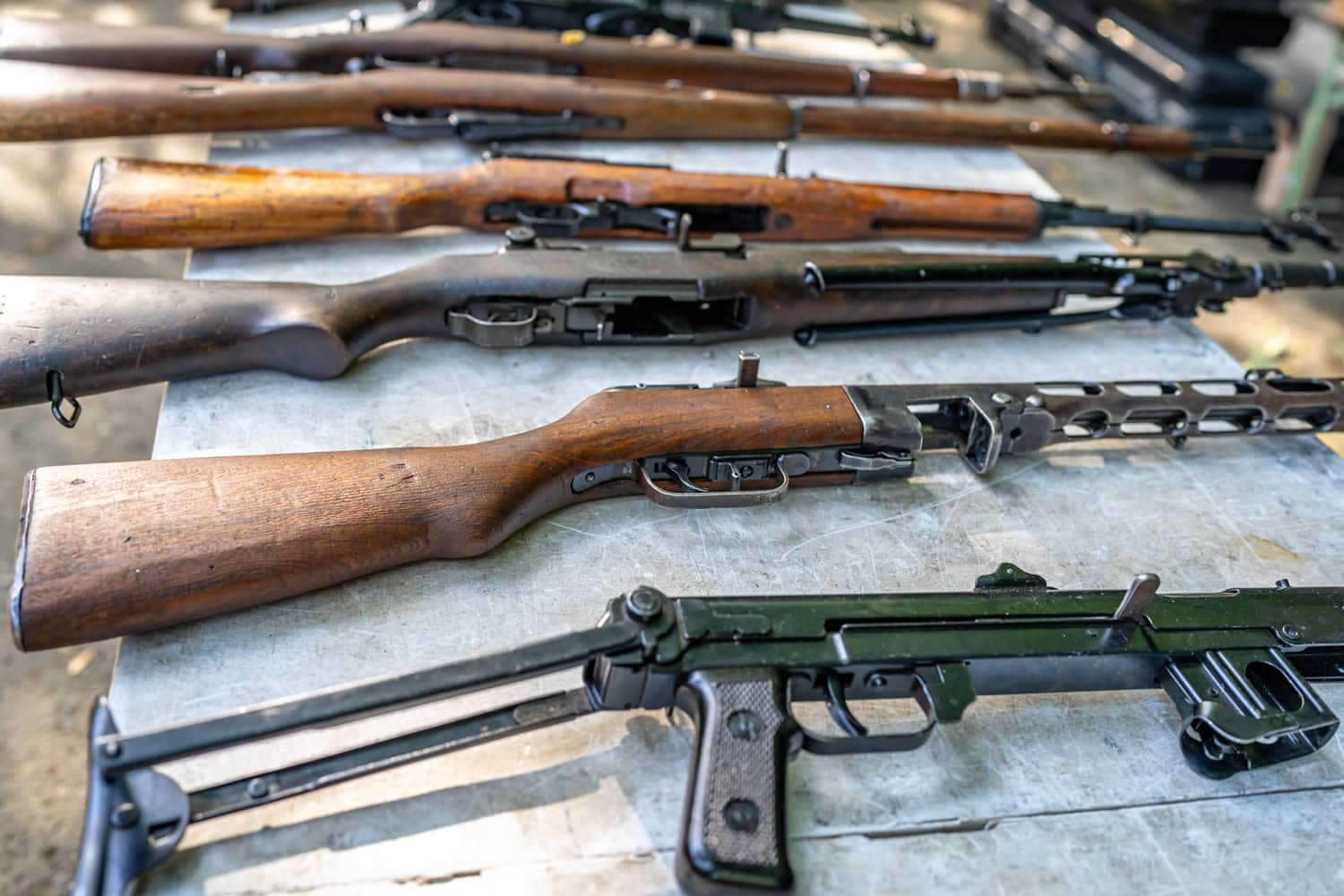 Prepare: Your team mates
Experience: The knowledge your accuracy will save the day
If you thought firing an automatic weapon in front of your boss was off limits, then think again. Why not mix that idea with a plethora of other offensive weapons with a historical & contemporary weapons team building day.
Small or large groups can try their hand at a range of different weapons, from longbows to machine guns. Do not fear, training is given, but it might be a good idea to remember your specs and perhaps keep your distance. Not a good choice if you plan on a boozy night before.
This is a fun team building event that delivers a ton of adrenaline, skill and trigger-happy fun, so if you are a fan of historical or conteporary weapons, why not book in? (just ensure everyone is on good terms beforehand).
Cageless Shark Diving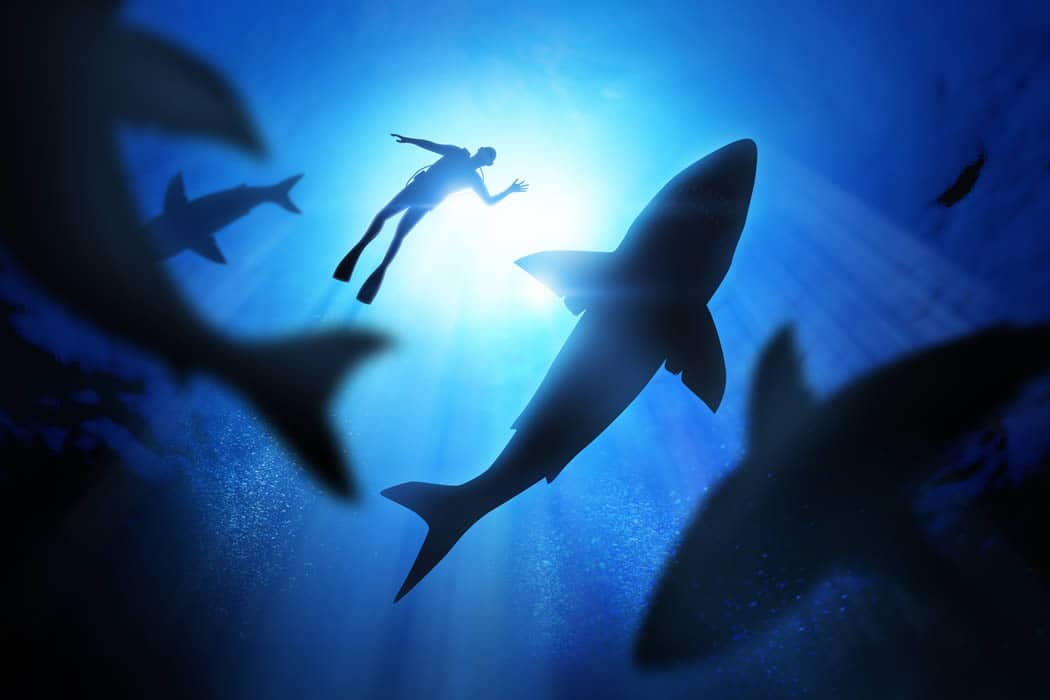 Prepare: Your Will
Experience: Total fear
Who needs a cage? Be done with the bars, chuck your dive suit on and get up close and personal with some chirpy Tiger and Bull Sharks. For the ultimate in outright insane team building, why not try this cageless (yes, you read that right) shark dive experience with Afridive down in sunny South Africa.
In groups of up to 10, you and your fellow team mates will stick on your diving equipment and be led on an experience of a (now potentially short) lifetime.
According to Afridive, they have completed over 988 cageless dives and:
'never experienced an accident with sharks or even as much as a threatening situation'
Does your team have what it takes?
Dragon Dancing
Prepare: Your Inner Choreographer
Experience: Creative, vibrant fun as you bring a dragon to life!
A fun and inspiring team building activity, you can join a Professional Dragon and Lion Dancing performance team as you learn the traditions and movements needed to operate the incredible dragons!
Dragon Dancing is a form of traditional dance and performance in Chinese culture. Dragons are believed to bring good luck to people. The dragon dance itself requires a lot of teamwork to bring the motionless body to life. Attendees work together to learn the movements and create their own dance. The correct combination and proper timing of the different parts of the dragon are key to a successful dance.
Elephant Care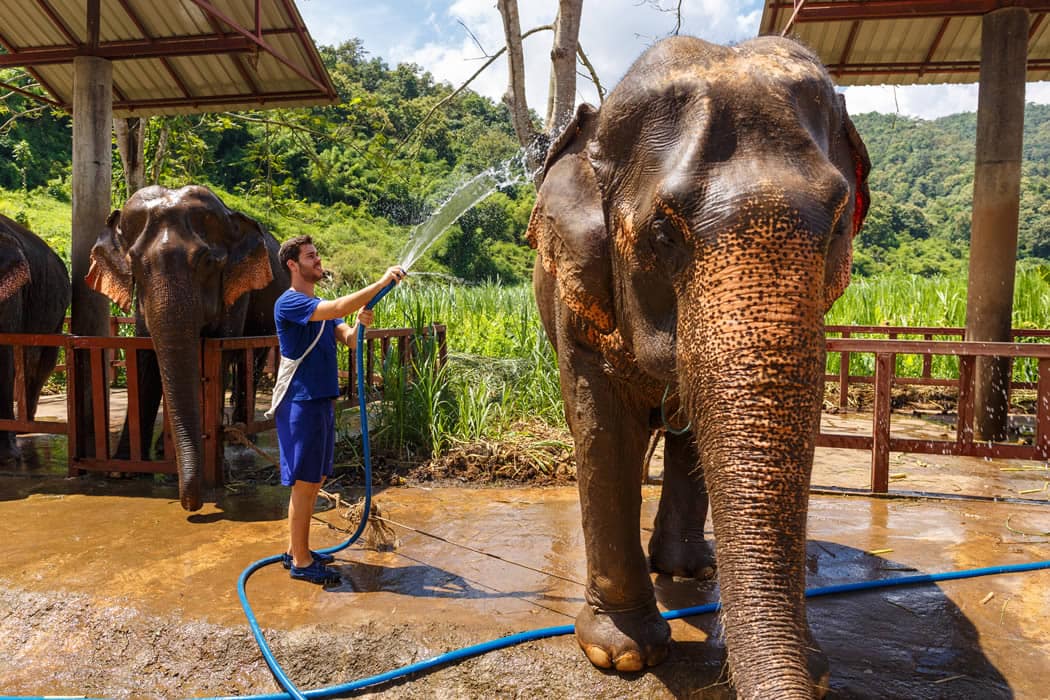 Prepare: Your Sun Hat and Waterproofs!
Experience: Hanging out with Nelly
Learn more about these magnificent creatures with an extra special Elephant Care team building activity. Participants are actively immersed into the elephants' natural habitat and learn all about their history and daily life.
Working in teams, attendees learn to feed, wash and clean the elephants which requires a great deal of trust, teamwork and cooperation. Add to this a serious amount of fun and laughter but beware: bathing often turns into a big water flight lead by the elephants!
Ocean Bus
Prepare: Your camera
Experience: Climb aboard the amphibious Ocean Bus as you learn more about Sweden's landmarks. Far from your usual sightseeing trip, you'll experience a thrill when the 10-tonne bus suddenly drives into the water! The Ocean Bus is a fun way to transport your attendees from a conference to dinner, all whilst taking in the cities culture.
Available for private tour rental, you can take your team on a sightseeing trip with a twist, giving everyone a chance to socialise and have fun whilst commuting. Build important relationships and learn more about your team on the most exciting commute you'll ever experience!
There's no denying that unusual activities are more engaging than your average team building office game that you might experience on a Monday afternoon in the staff meeting room. Your colleagues are also unlikely to forget these experiences and what it taught them about trust, teamwork, communication and appreciation for the business and organisers that gave them the opportunity to experience these great top events.
For more ideas, CLICK HERE to check out our vast selection of great UK team building events and make sure your corporate away day is one to remember!
So, are your team up for the weird, wacky and unusual?