Picking the right corporate event entertainment is what brings an evening to life, turning it from yet another boring work event to an extraordinary and memorable experience. So whether you are organising a gala dinner, award ceremony, product launch or promotional evening, don't forget to add an element of surprise, there are so many options to choose from.
Hire professional performers such as comedians, magicians, dancers, acrobats, or musicians. Acts and performers will bring feeling to your event, helping your guests laugh, smile and dance the night away.
2. Bandeoke
Bandeoke is just Karaoke with a twist. Guests can sing along with a live band instead of a pre-recorded track. Make your special guests feel like popstars for the night, bringing out their fun side and possibly their ear plugs with this highly interactive experience.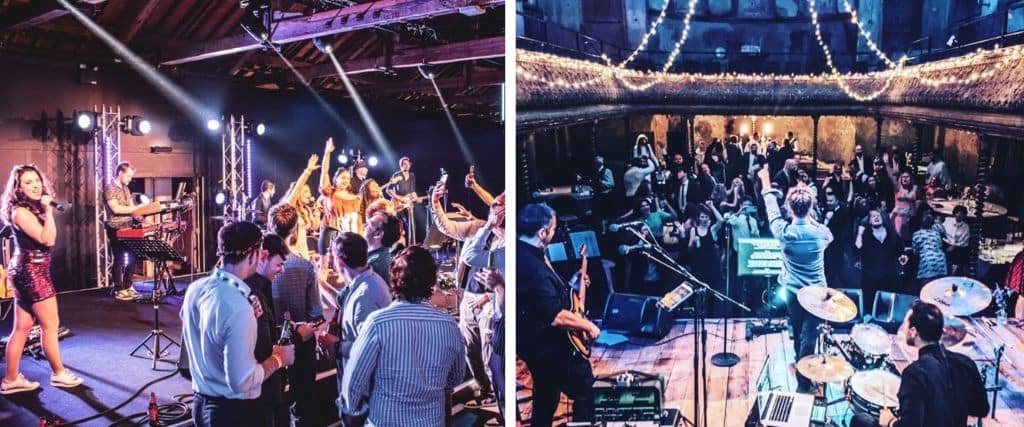 3. Fun Casino
Bring the excitement of Las Vegas to any corporate event with casino games such as blackjack, poker, and roulette. Get adrenaline pumping among your guests as the steaks are raised and winner takes all. With our professional croupiers on hand to host each casino activity, this inclusive evening entertainment option can be played by all, even those who have never played casino before.
Please note: no real money is exchanged in this activity.
Whether you like your drink shaken or stirred, there is something for all with a cocktail making class. If you are looking for something a bit more fast paced and interactive, why not take a break in your evening agenda to run a cocktail making competition. We can think of worse things to judge.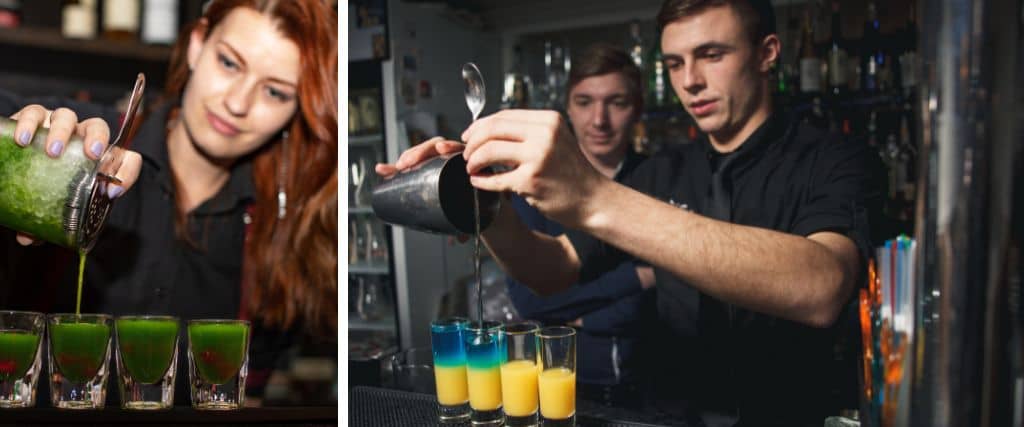 5. Magicians
Add a touch of magic to your event by hiring a professional magician who can perform illusions and mind-bending tricks that are sure to get your attendees talking. The perfect choice of entertainment for getting communication flowing at your event.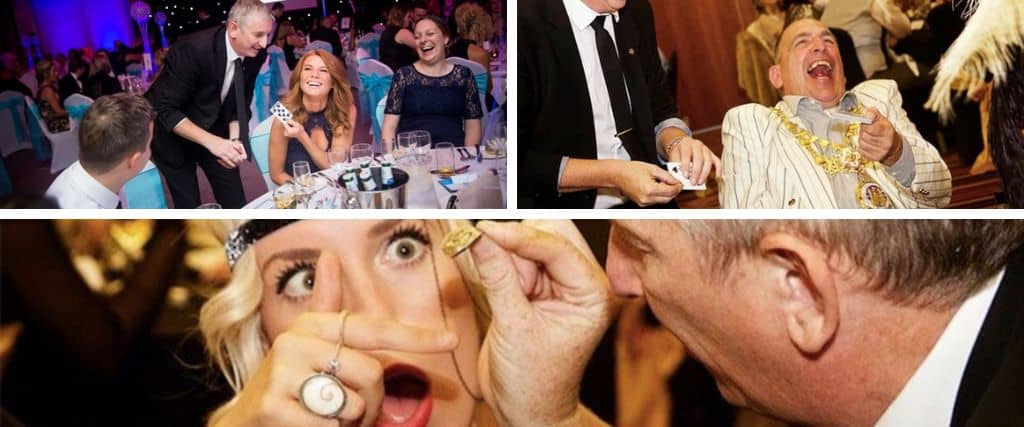 That's right, 'there's been a murder' but it's your guests who need to figure out who committed the deadly crime. Murder Mystery is a great addition to an evening meal. Supported by professional actors and production, this immersive experience is one that surprises guests, keeping them on their toes with puzzles, clues and prizes as the plot thickens!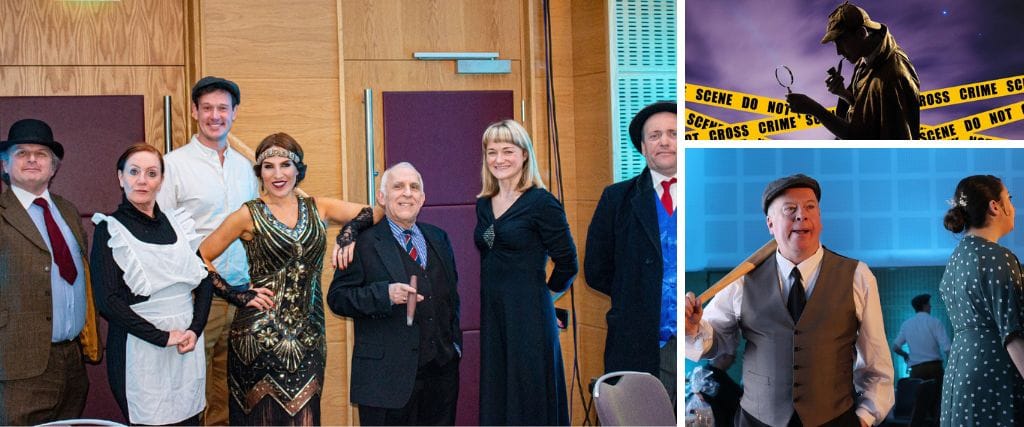 7. Arcade and Simulator Games
The popularity of gamified socialising is on the rise. Give people what they want by taking this trend to your next corporate event. Dedicate part of your event venue to creating your very own Electric Shuffle, Fight Club or Roxy Ball Room style area. Include games such as foosball, air hockey, racing simulators and more. This is the ideal entertainment for high engagement, fun and mingling!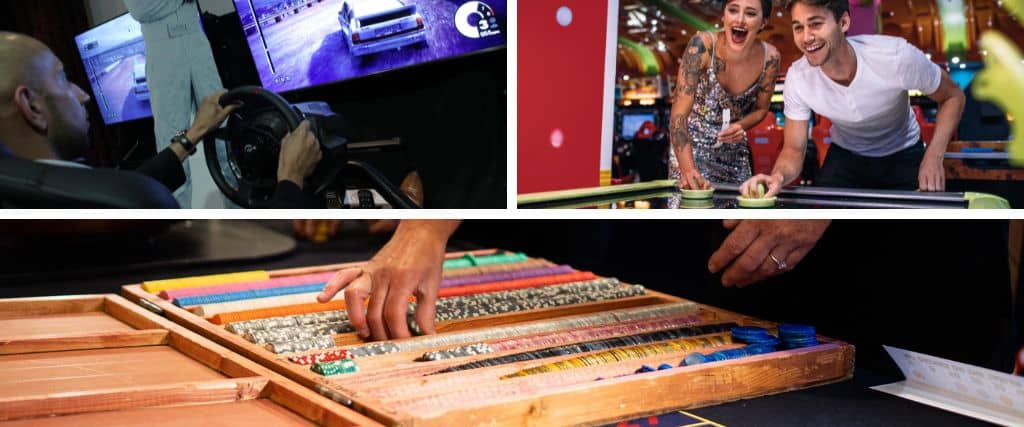 If you are sick of holding the same old corporate social event. Surprise your attendees with something out off the blue and completely unexpected. Enjoy a corporate dinner with a twist, as waiters spontaneously burst into song and dance, entertaining guests whilst they eat, relax, and chat!
9. Race Night
Are your corporate event attendees a competitive bunch? If so, then race night is for you. Add racing simulation onto your evening dinner and watch as guests get stuck into the thrill of placing their bets, competing against each other to be first across the finish line.
Please note: no real money is exchanged in this activity.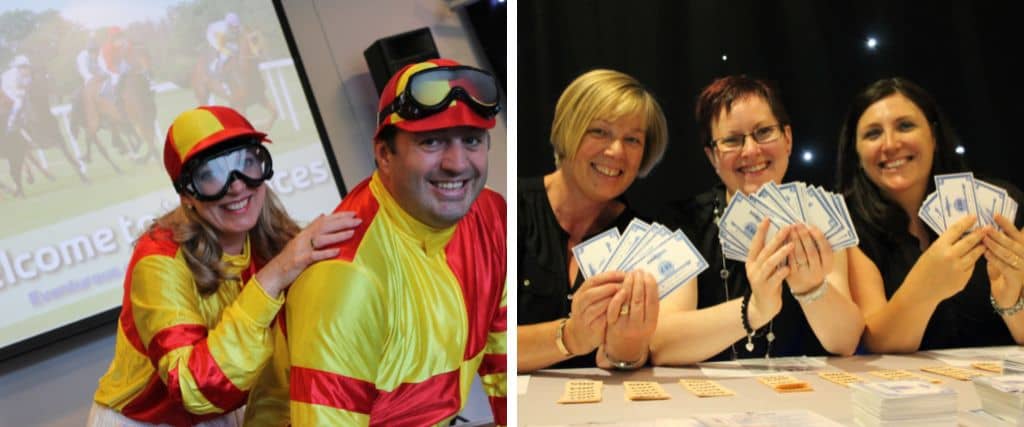 10. Game Shows
A multi-activity entertainment package featuring a range of fun yet trivial games. Supported by our professional event props and hosts, your guests will feel like they are live on classic TV shows such as Minute to Win It and Company Fortunes. An activity with many benefits for those looking to increase engagement, laughter, competitive spirit and teamwork.

Remember to consider the demographics and specific preferences of your guests when choosing an entertainment option to ensure everyone has a great time. To discuss which evening entertainment will best suit your corporate event contact us.