After a record-breakingly wet summer, it's safe to say that your team may be feeling a little demotivated but as we embrace cosy nights by candlelight, new releases of our favourite TV series and the magic of the festive season ahead, it is important to remember to lift spirits at work also.

Isaac Kenyon, Team-Building Expert Keynote Speaker says, "Winter offers a unique canvas for team building, setting it apart from the sun-soaked days of summer. While the warm months beckon with outdoor adventures, the winter season unveils a distinctive opportunity to forge stronger bonds within teams.

In the midst of colder, darker days, especially pronounced in regions like the UK, where the NHS estimates that 1 in 15 Britons grapples with 'January Blues' or Seasonal Affective Disorder (SAD) stemming from limited exposure to sunlight and the gloomier winter climate.

During these months, employees may experience a sense of unease, fatigue, anxiety, or even depression as daylight dwindles and temperatures plummet. While we can't control the weather, we have the power to shape our office environments and grow a team unity conducive to staff well-being and productivity. It's precisely in these moments that prioritising team-building and morale-boosting activities becomes paramount. The winter season invites us to explore a wealth of indoor team-building exercises, improving productivity and elevating employee spirits during the darker months."
Avoid that pre or post-festive slump and inject some energy with a winter team building activity that will boost staff morale and promote positive mental health. Whether you are energising tired employees in November or kicking-off the new year with some motivational indoor team building activities in January, here's our favourite ideas for winter team building. You can select an activity type based on your desired outcome – Eventurous have over 60 engaging team building activities to choose from.
Perfect for: The Rule Breakers!
Group size: 20 – 1000+
Type of team building: problem-solving-based technique
Best for: Working together to achieve a common goal
Diamond Heist brings the thrill and intrigue of a escape room team building experience directly to your venue. This tabletop activity sees teams on a pursuit to steal a rare Diamond before the authorities catch up with them (metaphorically) with only limited time, the team must stay calm under pressure to crack the codes and solve the riddles, opening a new level to the tabletop escape room each time. Watch how your teams handle the pressure – will they work together better or worse?
This fully mobile experience is a great way to engage all participants, with thought-provoking activities suitable for all abilities and personalities. Diamond Heist can be easily executed in offices, meeting rooms and conference venues.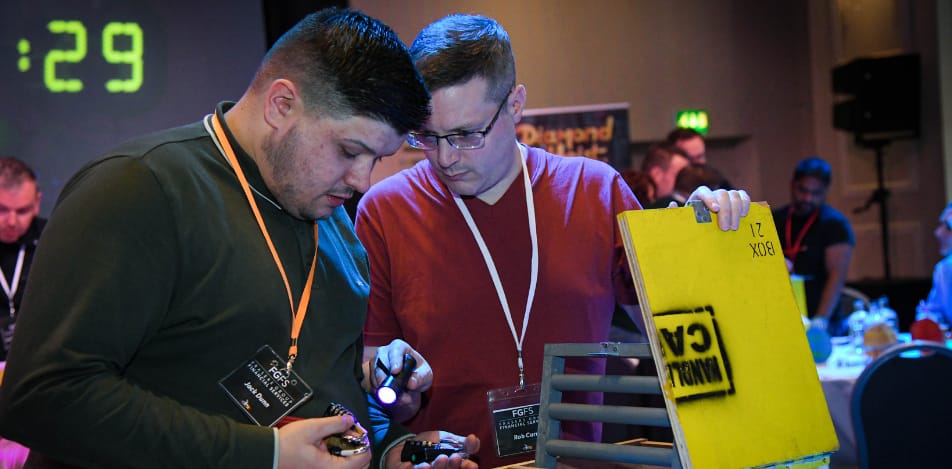 Get Crazy in the Kube
Perfect for: The Strategists
Group size: 20 – 100
Type of team building: skills-based technique
Best for: developing specific skills
This high-intensity indoor activity is just as exciting to watch as it is taking part and is a popular winter team building. With participants split into teams, individuals compete in challenging practical tasks that require contestants to practice keeping calm and thinking strategically under the pressure of being in the challenge arena AKA the Kube! Against the clock, to accumulate points and defeat the competition.
Complete with atmospheric lighting, a dramatic soundtrack and impressive theming, The Kubed Challenge is a sure-fire way to energise employees. Who can hold their nerve, and who will fumble over the simplest of tasks?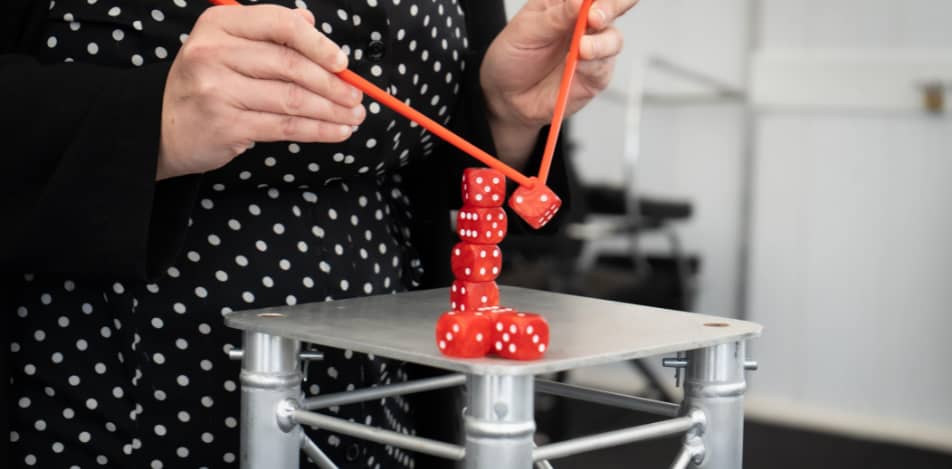 Show Off Your Own Soapbox
Perfect for: The Speed Deamons
Group size: 25 – 1000+
Type of team building: activity-based technique
Best for: developing cross-functional teams
You'll want to recruit the very best, elite pit team for this indoor Soap Box Derby challenge. Be prepared to raise the energy, as you battle against the clock in teams to assemble and design your very own race car for a place on the winner's podium. Get creative and hands on, as your team builds their car from a set of construction plans, adding their own personal touches along the way, ready to wow in the grand finale race against fellow teams.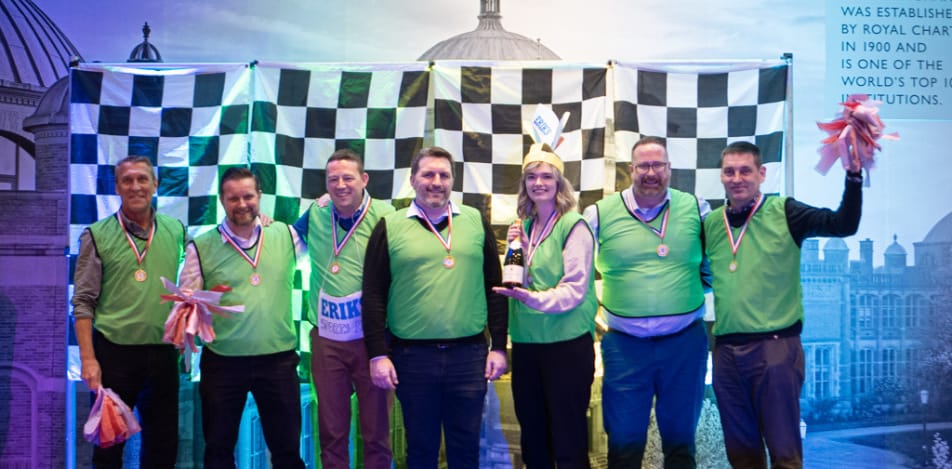 Dare to Enter the Crystal Dome
Perfect for: The 90s Babies
Group size: 20 – 300
Type of team building: activity-based technique
Best for: developing cross-functional teams
Live out your childhood dreams of taking on the infamous team Crystal Challenge! Put your mind and body to the test, with a variety of fun challenges that will have everyone joining in. Move your way through different zones, containing puzzles and games, collecting crystals as you go, all with the final goal in mind – Time in the Crystal Dome! The perfect blend of extremely fun and skill development, this indoor team building activity will be a definite hit with employees of all ages.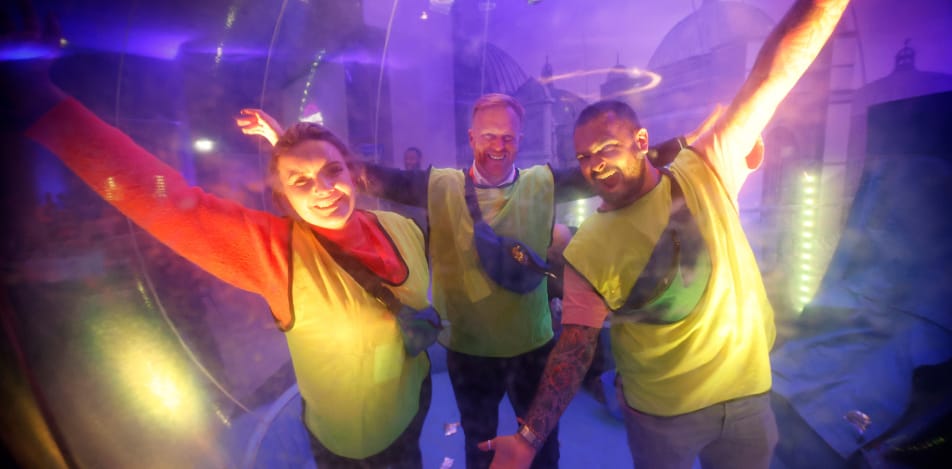 Can You Win it in a Minute?
Perfect for: The Quick Thinkers
Group size: 40 – 150
Type of team building: activity-based technique
Best for: developing cross-functional teams
Go up against the clock in this fun, action-packed game show. After being split into teams, select participants are bought on stage to partake in a variety of challenges. What may initially seem like an easy task, quickly becomes more difficult when faced with the 60 second time limit! Games such as Stack Attack, Mad Hatters and Beat the Buzzer will see everyone laughing, with high audience participation, bags of energy and a dash of healthy competition. Suitable for both small and large group sizes, Minute to Win It works well as an afternoon team build or as an interactive evening entertainment option.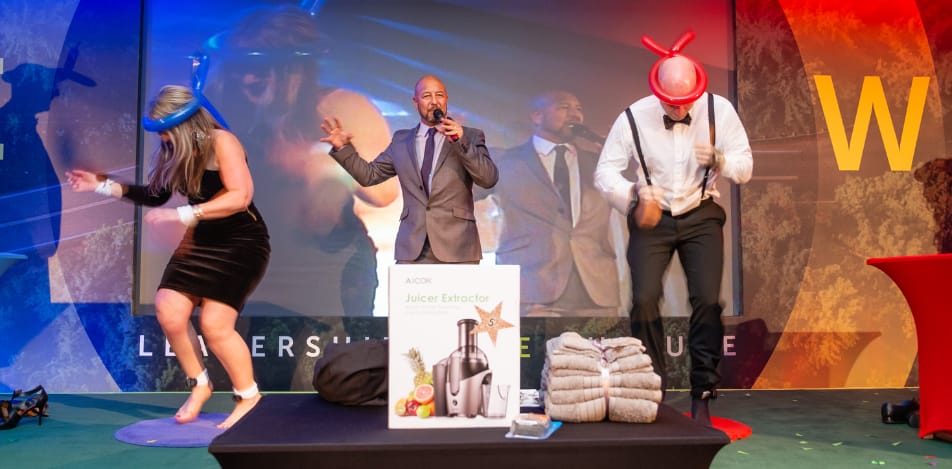 Scale the Heights to Victory
Perfect for: The Business Minded
Group size: 40 – 150
Type of team building: skills-based technique
Best for: developing specific skills
The key to this business simulation team challenge is strategy. Teams must work well together if they are to solve the cryptic brainteasers that unlock vital information on a designated electronic system obtaining bricks from our pop-up site office, in aim of Scaling the Heights. Teams will need to use their communication skills throughout.
A great team building activity to get everyone participating. Develop your teams' day-to-day skills, such as co-operation and time management, whilst cracking codes and negotiating for the correct blocks needed to construct the team tower.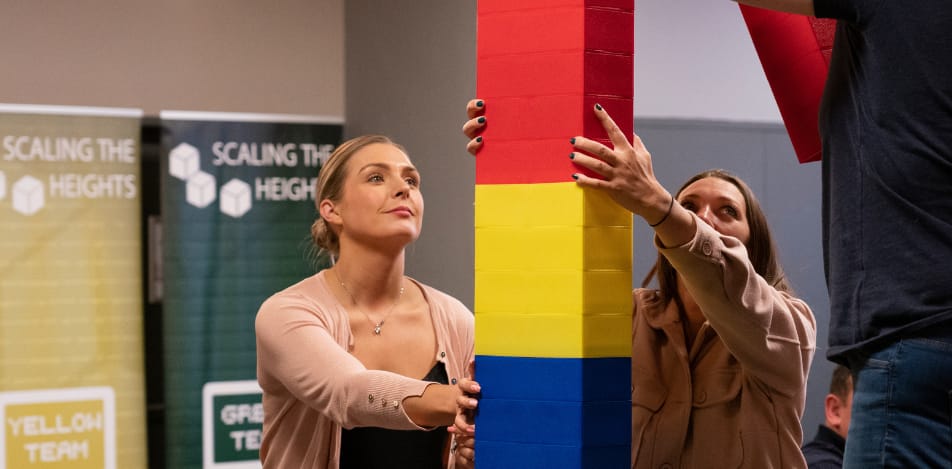 Discover the Lost Pages
Perfect for: The Curious
Group size: 5 – 1000+
Type of team building: problem-solving technique
Best for: encouraging teams to work towards a common goal
Get lost in the unknown, as you and your team use props to immerse yourselves in a journey of discovery through ancient temples and lost cities in pursuit of solving riddles from the lost pages of an explorer's journal, to find out what happened to them. New for the Eventurous portfolio this year, this unique indoor team building activity is one like no other, with each riddle consisting of its own hand drawn illustration, this activity requires a variety of skill sets to succeed in solving these obscure challenges.
Give Back with Fairway to Foodbank
Perfect for: Driving Donations
Group size: 20 – 200
Type of team building: value-based technique
Best for: giving back to charity or the community
In this new corporately social team build activity, gives your team the opportunity to have fun on the fairway whilst giving back to the community. In teams you are supplied with a kit to build your own 3-meter crazy golf hole, but there is a catch! Your golf hole must be made from non-perishable food stuffs as well as golf hole obstacles. Any food utilised throughout the game must be donated to your local foodbank afterwards. Once you've got your hole on par with your opposing teams, prepare for mini golf mayhem you come together to battle it out on the course.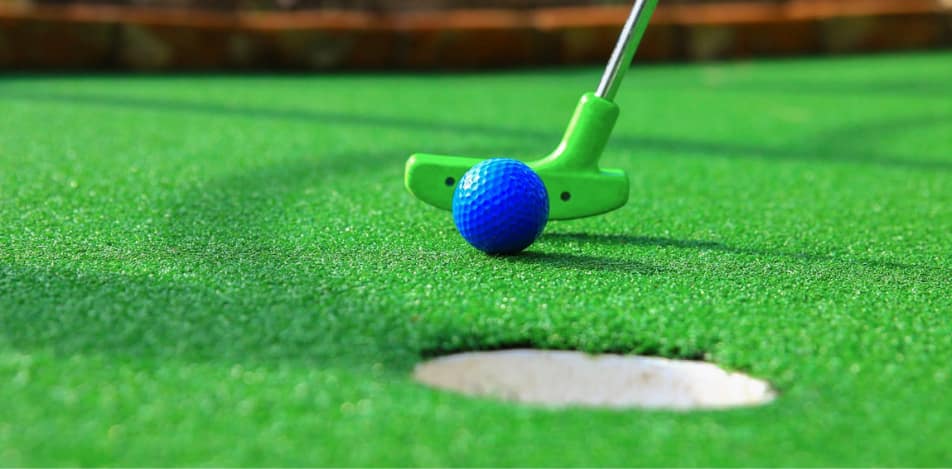 Be Part of The Bigger Picture
Perfect for: The Big Thinkers
Group size: 15 – 250
Type of team building: hybrid techniques
Best for: practicing brand values and encouraging a positive culture
Create a collaborative masterpiece good enough to hang on the office wall, in this artistic team challenge. Working in sections, teams will get the chance to unleash their inner artist as they recreate a mural (The Bigger Picture). The final piece can be anything from a famous artwork to a bespoke graphic portraying your company message, ideal for reinforcing a conference theme or goal. Teams will have to memorise the full picture, before being set on their own section. At the end of the activity, when all the sections are connected, will you be left with a masterpiece? Or a master fail!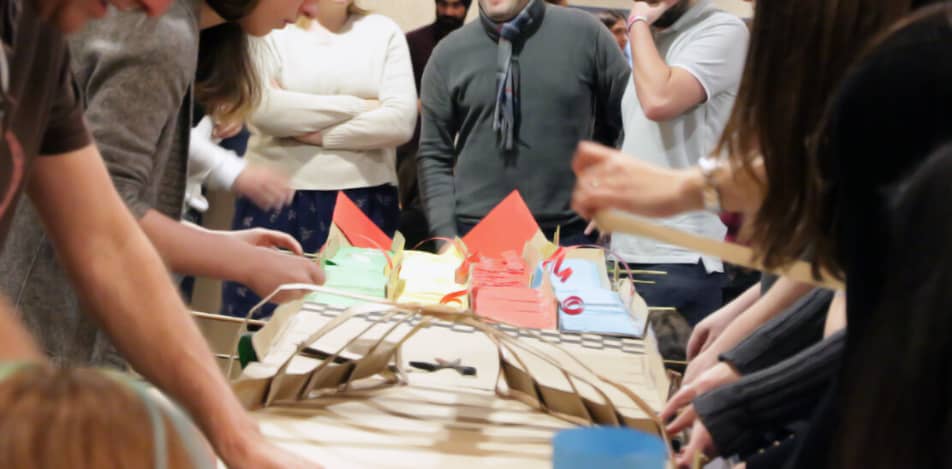 Let's Talk!
Ready to start planning your next indoor team building event? Contact us and speak to one of our friendly team for advice on the best activities for your group size and objectives. We can suggest activities that work with your requirements and a find a venue suitable to your activity and location.